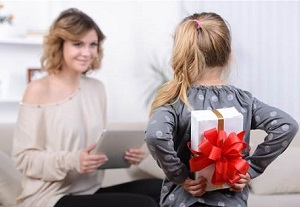 You have been celebrating it for as far back as you can probably remember, but how much do you really know about Mother's Day? Here are five facts that will give you a little bit more insight into the special day.
1. It dates back to Ancient Greece
Long before the commercialisation of the holiday, mothers were being honoured with a special feast day, first in Ancient Greece, and later, Rome. The festivities were planned to worship Rhea, the Mother of the Gods, with thanks and offerings given in her name.
2. It was originally held to remember fallen soldiers
'Mother's Day' was an event founded by US women's organiser Ann Reeves Jarvis, for mourning women to remember fallen soldiers and work for peace. Jarvis held 'Mother's Day' work clubs in which they tackled issues like the improvement of sanitation and the curbing of milk contamination, and they also tended to injured soldiers.
3. It began as 'Mother's Day', not 'Mothers' Day'
The commercialisation of Mother's Day as we know it began long after Jarvis' death, with her daughter Anna continuing on her mother's work. She held a special day of observance to honour her mother after her passing, but she had very specific ideas about the occasion. Anna had always planned for it to be 'Mother's Day' – a day where you celebrate the best mother you've ever known, as opposed to mothers all over the world. We much prefer today's celebrations – that way, everyone gets recognised!
4. The big statistics
Now a bona fide Hallmark holiday, Mother's Day cards are the third most popular holiday card out of the entire year's celebrations and festivities. Each year, a staggering 133 million cards are exchanged between loved ones.
5. It has its own flower
Did you know that carnations are the most popular flower given on Mother's Day? This goes back to a religious story which stated that carnations grew from the ground where Mary cried during Jesus' crucifixion. Carnations have since been associated with motherhood, with pink and red shades proving the most popular on Mother's Day.