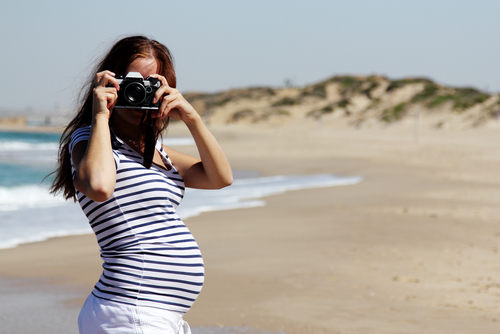 While you might not be able to wait for your little one to arrive, it is important you embrace your pregnancy as it too is a part of motherhood that needs to be relished and remembered.
Here five ways to document your pregnancy in ways you will treasure forever:
Bump shot
The obligatory bump shot should be more than a quick shot in your bedroom mirror although it doesn't need to be a professional one either. Take a shot each month to track your bump's changing shape. If possible, stand in the same position in the same room and you will really notice the changes.
Nursery shot
If you are putting your little one's nursery together, make sure you take photographs of it as you go. Don't just restrict yourself to the before and after pictures, take shots of paint pots or wallpaper samples – it is these kinds of things you forget about, but are a part of your transition into motherhood.
Baby clothes
Take pictures of the baby's clothes, if you have bought any. Hang them up in the wardrobe and take picturesque shots. Baby shoes make adorable pictures to hang on the wall. Lay them out on the Moses basket or cot in anticipation of baby's arrival.
Siblings
Take pictures of life before baby arrived. Make sure you take snaps of older siblings doing their own things but also take pictures of them beside you and the bump.
Homelife
Document life before your baby arrives. Take pictures of the house, the street or your area. This way your little one will be able to see just what life was like before they came along. For each month, why not take shots of the local newspaper and don't forget about the front and back garden – these will certainly change as your family expands.
While you might not be feeling your best through your nine months, it is important you try to document your pregnancy as they will be photos you will fondly look upon when your little one is in your arms and growing up.