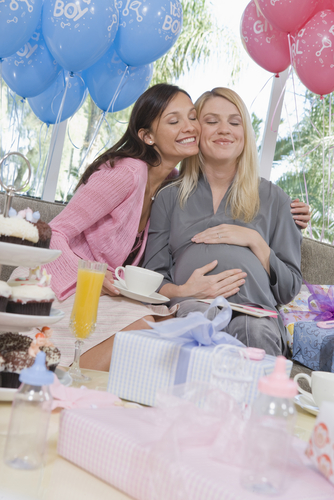 A baby shower is a great opportunity to enjoy time with your friends and family before baby arrives. If you are looking for ways to entertain your guests, why not try these baby shower games.
Name that tune
Reminisce over the music you and your friends used to listen to. Simply play your favourite old songs and get your friends to guess the name and year it was released. If you want to really make it fun only use songs that use the word 'baby' in it. Have your friends and family write down their answers on a piece of paper and the winner gets a small prize.
Baby photos
Get each of your guests to bring their baby photos to the party. Ask them to drop them into a bowl on the way in. When you have them all get your guests to sit around in a circle, pass around the photos and try to guess who it is.
Celebrity babies
This is kind of like the baby photos game but with pictures of celebrity babies. Pass around pictures of famous people's children and get your guests to try to guess who it is. You don't need to stick to recent babies, try to pull up older black and white pictures to make it really difficult.
Baby items in the bag
Fill up your baby bag with different baby items and blindfold your guests. Ask them to put their hands in the bag and get them to try to guess what's in there.
Guess the baby food
This is great fun and all you need are a few jars of baby food. Blindfold your guests and spoon feed them the baby food. Get them to guess what it is they're eating. To make it more of a challenge, have a prize for the person who gets the most correct answers.
Drink out of a baby bottle
Drinking games are always a great hit but try this one with a twist. Put your guests into teams, fill baby bottles with a non-alcohol drink and see which team drinks their bottle the quickest.