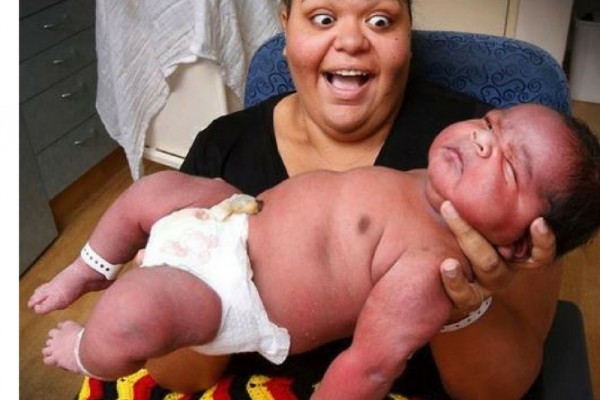 This story pretty much proves what we've always known - that mums are superheroes.
Natashia Corrigan is one mum we deeply admire right now because she delivered a 13 pound four ounce baby vaginally with only laughing gas!
It's certainly one of the most incredible feats of motherhood we've heard so far.
Natashia, from Melbourne, Australia, wasn't expecting such a big baby after having two "average-sized" girls already. However, baby Brian Junior took her by surprise. Brian Junior was born at 40 weeks and five days at Mercy Hospital for Women in Melbourne, Australia, and according to News 7, he is possibly the largest newborn ever in the state of Victoria.
Both mum and the hospital staff couldn't believe how big he was. The not-so-little bundle of joy was already too big for newborn nappies and clothes.
"I dreamed of a little fat baby," Natashia said. "I've always wanted a little fat baby and I've got a big one!"
Natashia's doctors had warned her during her pregnancy that her baby boy was on the larger side. At 36 weeks, the tot was already about nine pounds.
However, she was still surprised by his size, especially as she didn't have an epidural and relied laughing gas during his delivery."I think I was in a bit of shock because the birth was natural and I only had gas so I was still in a bit of shock just from that," Natashia said.
"The power of positive thinking during birth, be positive, breathe deep."
Dad Brian Liddle said he was happy his son arrived safely and said the family was "blessed" by the delivery. Brian Jnr is the couple's third child, their older daughters weighed eight pounds four ounces and seven pounds 12 ounces respectively.
How amazing is this? Natashia is an incredibly strong woman, we need to learn some of her deep breathing techniques!