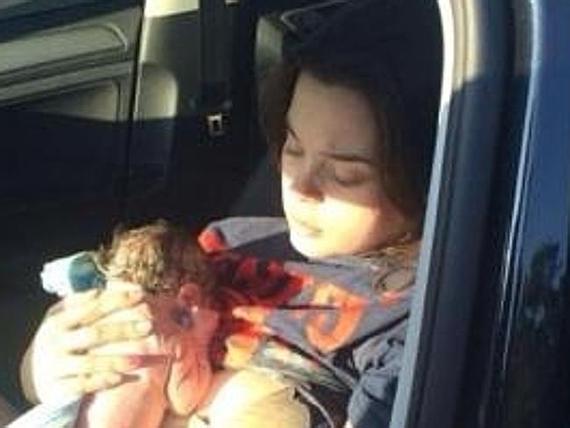 20-year-old Allyson Lock and partner Craig Hughes were driving to Westmead Children's Hospital in Sydney for their scheduled caesarean at rush hour, when it became clear they wouldn't make it.
Allyson had been advised to get a cesarean as not only had the baby been diagnosed with spina bifida, but a late scan showed she was
in the breech position.
When they realised Allyson was going to give birth right then, Craig sprang into action and took control of the situation.
"Craig was calm; I was not calm at all," Allyson said.
"I couldn't tell you what was going on in my mind at the time.
"You hear about labour ‒ one minute of pain, five minutes break. Mine was constant awful pain. I'm not even sure how long the birth took," she said.
Despite all the difficulties and complication, doctors told Craig they impressed at how well the delivery was handled.
As Harleigh was born, ambulance crews arrived and paramedics were able to cut the cord and take the family to hospital.
Mum and baby are doing well, although Harleigh will undergo surgery for spina bifida in the next few days.