As they grow in popularity, baby showers are being seen as an excuse to catch up with friends, be spoilt rotten and open up lots of adorable, cute little gifts. Whether you are organising it for a friend or you are hosting your own one, keeping it simple is usually the way to go.
However, even if you are thinking simplicity, a theme makes organising it a whole lot easier and it doesn't have to be too extravagant if you don't want.
Fairy princess tutu
Only the best for your little girl will do so why not go for a fairy princess tutu party. Keep the colour baby pink and, just like the party above, hang little tutus on a washing line or on the walls inside your home. A few fairy wands scattered around the house, fairy bunting on the walls, and princes cupcakes would be the way to go with this theme.
Gender neutral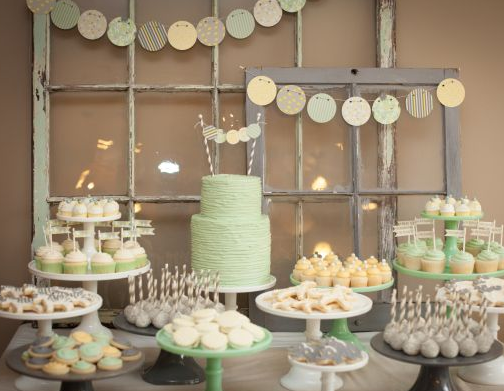 If you don't know the sex of the baby or want to keep it a secret, a gender neutral party is definitely the way to go. Why not work the theme around the whole baby shower idea and go with a water/ rain theme. For a gender neutral theme go for yellows, creams and greens and keep the decor clean and simple with bunting and/or lights.
Dinosaur party
A dinosaur party works for a boy or a girl. If you want to prettify it up a little, why not turn it into a dinosaur princess theme. A T-Rex cake, plastic cups with a Brontosaurus on them, sandwiches cut into the shape of a dinosaur, fossil chocolate bites, and green cupcakes would sort out the food side. Why not invest in a dinosaur piñata and have loads of fun trying to get the sweets out. Alternatively, fill it with soothers and surprise the guests! This is definitely a unique theme for a baby shower.
Exquisite garden party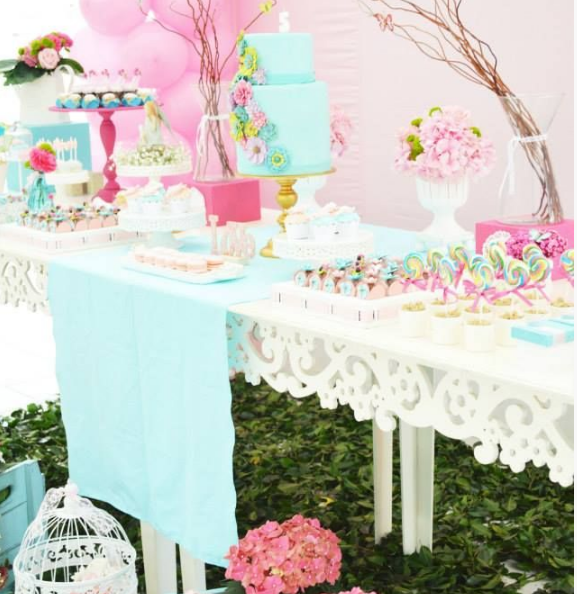 This is ideal if you are hosting the party during the summer. White garden furniture, lots of baby pinks and baby or blues, yellows, creams and greens if you don't want to specify the sex of the baby. Serve little sandwiches, lemonade and healthy nibbles such as carrots sticks. A few candles in wrought iron holders will give the illusion of warmth so the party can go on right into the late evening!
images via Pinterest