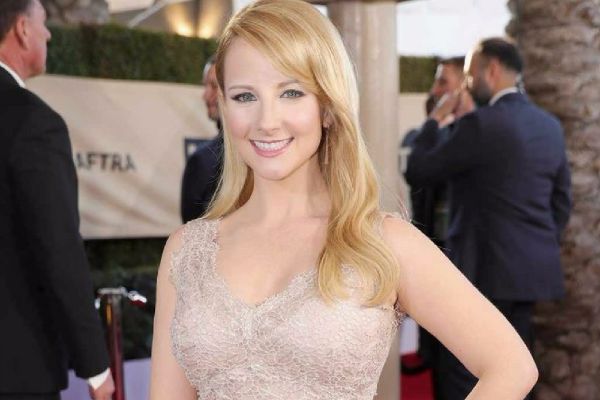 Congratulations are in order for The Big Bang Theory star Melissa Rauch – she's expecting a baby.
The actress revealed her good news to Glamour in an open letter. Melissa wrote: "I'm expecting my first child. I'm extremely overjoyed, but if I'm being honest, due to the fact that I had a miscarriage the last time I was pregnant, I'm pretty much terrified at the moment that it will happen again."
She went on to say that she doesn't feel like telling anyone until the baby is safely out in the world, but doesn't want people to notice her baby bump and start talking.
"I feel weird even announcing this at all, and would rather wait until the child heads off to college to tell anyone, but I figure I should probably share this news before someone sees me waddling around with my mid-section protruding and announces it first."
Melissa who plays microbiologist Bernadette on the show explained how hearing other pregnancy announcements were upsetting for her following her devastating miscarriage.
Read #BigBangTheory star Melissa Rauch's powerful essay on miscarriage https://t.co/UYVRmysSHJ pic.twitter.com/Jwu1w6JhqF

— TV Guide (@TVGuide) July 11, 2017
"During the time when I was grieving over my pregnancy loss or struggling with fertility issues, every joyful, expectant baby announcement felt like a tiny stab in the heart.
"It's not that I wasn't happy for these people, but I would think, 'Why are these shiny, carefree, fertile women so easily able to do what I cannot?' And then I'd immediately feel guilt and shame for harbouring that jealousy—one might call this 'the circle of strife' ".
These thoughts made it difficult for her to announce her pregnancy as she feared it could cause upset to women who have had miscarriages.
"So, when I thought about having to share the news about expecting this baby, all I could think about was another woman mourning over her loss as I did, worried she would never get pregnant again, and reading about my little bundle on the way."
As well as sharing her happiness, Melissa felt it was important to share the loss and grief she had gone through.
"The miscarriage I experienced was one of the most profound sorrows I have ever felt in my life," she explained.
"The image of our baby on the ultrasound monitor—without movement, without a heartbeat—after we had seen that same little heart healthy and flickering just two weeks prior completely blindsided us and haunts me to this day.
"I personally just wanted to express what I've experienced in the hopes that it could help someone going through a similar pain."
We're delighted for Melissa and hope that everything goes well throughout her pregnancy.