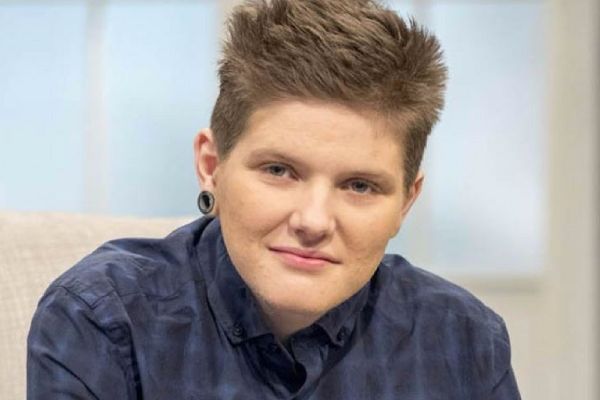 The UK's first "pregnant man" has given birth to a baby girl.
Hayden Cross, 21, was born a girl named Paige but legally changed his gender to that of a man. He had been living as a man since the age of 18.
He was undergoing hormone treatment but paused it to conceive using a sperm donor he had met on Facebook, according to The Mail Online.
Last night his family revealed the former Asda worker had given birth to a daughter whom he's named Trinity-Leigh Louise Cross on June 16 at Gloucestershire Royal Hospital. Both are said to be doing well following the birth.
Hayden's grandmother Pam Edgeworth said she was "delighted to be a great-grandmother." Hayden is listed as the mother on the birth certificate but there is no record of the father.
The historic birth means Hayden is the first known transgender man to give birth in Britain.
British man makes HISTORY: Hayden Cross becomes first bloke to give birth to healthy baby girl https://t.co/qSYLvhVstX pic.twitter.com/8qg6OnCGVk

— Daily Express (@Daily_Express) July 8, 2017

Hayden said he had wanted to have his eggs frozen before but the NHS had refused to do it and he couldn't afford private treatment.
He then found a sperm donor online who called to his home and provided him with the sperm in a pot. The identity of the donor has never been revealed.
Hayden self-inseminated using a syringe and fell pregnant. He said he'd resorted to this desperate measure because he had always wanted to be a parent and felt he had "no choice" when the NHS refused to freeze his eggs.
While he said in the past carrying the baby "feels wrong" physically, Hayden believes he took the best course of action to have the family he has always wanted.
"I faced the prospect of not becoming the man I am supposed to be, physically, or a dad…This is my only chance," he told The Sun.
PROUD Hayden Cross has made history by becoming the first British man to give birth. The 21-year-old, said of ... https://t.co/ma5TaFIUnZ pic.twitter.com/5h6MPnahnj

— Republic Buzz (@republicbuzz) July 8, 2017
It's believed that Hayden will now continue with his gender transition and will have his ovaries removed.
Hayden's decision to have a child caused some tension among his family, with his uncle Sean Hodson saying: "I fear this child is going to grow up confused. It is confusing for me.
"Hayden had a difficult upbringing and perhaps if her childhood had been more stable she wouldn't be in this situation now. I cannot get it into my head that she is changing from a girl to a boy."