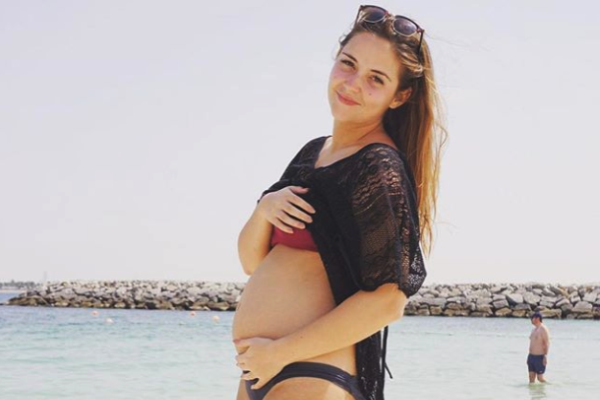 Picture via Instagram
Our bodies go through all sorts of weird and wonderful changes when we're expecting - some nice, some not-so-nice.
Jacqueline Jossa, who is pregnant with her second child, loves her 'pregnancy body', but not necessarily all of the physical sensations that come with it.
"The first 16 weeks were horrendous. I was being sick almost every morning!" the former Eastenders actress told Closer of her current pregnancy.
She and husband Dan Osborne are already parents to three-year-old Ella, and Jacqueline is step-mum to Teddy, Dan's son from a previous relationship.
The 25-year-old said that this pregnancy has certainly been different from the last one - and not necessarily in a good way.
"With Ella - apart from not having periods - I wouldn't have known I was pregnant until I was about six months along. I didn't have a bump and didn't feel any different," the English actress explained.
Now that she's reportedly six months pregnant, though, she's feeling better in this pregnancy: "This time was hard, but luckily it stopped at 16 weeks and since then I've felt great!"
Jacqueline enjoys being pregnant and expressed her appreciation for her body when she's expecting.
"I feel like pregnancy suits me and I feel so comfortable and good about myself when I have a bump," she said.
Of course, having a supportive partner always helps! The soap star says that her husband's love and affection make her feel good about how she looks, bump or no.
"Daniel always makes me feel really confident and I embrace my pregnancy body - bumps are really cute," Jacqueline said. We definitely agree!