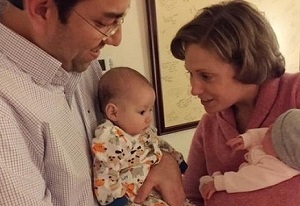 She never dreamed of becoming a mother, and so welcoming two babies in the space of a fortnight was truly a dream come true for Elizabeth Edsall Kromm.
Kromm was diagnosed with kidney cancer at the age of three, and she underwent chemotherapy and radiation as well as numerous surgeries until she was six.
After meeting and marrying her husband Jon, Kromm underwent intrauterine insemination and in vitro fertilisation, but she was unable to get pregnant.
Feeling certain that she would never conceive naturally, Kromm and her husband arranged to have a child through a surrogate in 2014. However, a visit to the doctor after weeks of feeling unwell revealed the unexpected – Kromm herself was expecting, too.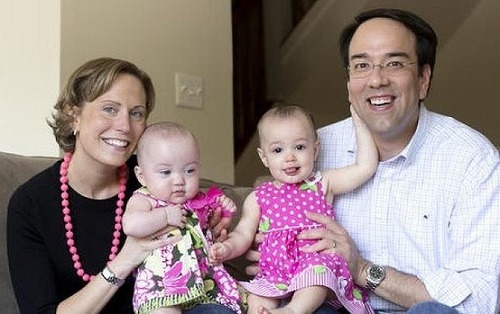 Caroline 'Linny' was delivered full-term via a surrogate the following November, while just 11 days later, Kromm gave birth to Amelia 'Millie'.
Although Millie was born after 27 weeks of pregnancy, doctors assured the Kromms that they soon would not know the difference in the girls' development.
Finally sharing her heartwarming story with the world, Kromm told The Baltimore Sun this week: "Every morning I wake up now and look at the girls, and I'm like, 'Wow. All the puzzle pieces actually came together.'"