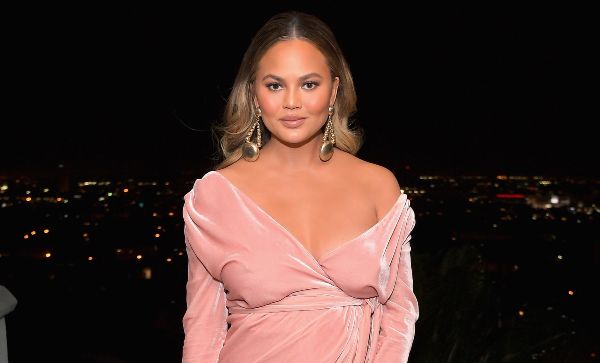 There's no doubt about it; Chrissy Teigen loves being a mum. One glance at her social media and it's easy to see she's in her element with her young daughter Luna - and soon she'll have baby number two, as her son is due in June.
But for the glamorous life she indeed leads, motherhood hasn't always been an easy path. It isn't always about a perfectly curated Instagram feed - there's a raw and real quality to Teigens' and she uses this, when possible, to raise awareness about the issues that mean the most to her. She openly and publicly about suffering from postpartum depression and anxiety after giving birth to her daughter two years ago in an attempt to lessen the stigma attached to it, admitting that she didn't think it would happen to her.
"I would go two days without a bite of food, and you know how big of a deal food is for me," she said at the time. "One thing that really got me was just how short I was with people. I couldn't figure out why I was so unhappy."
She said, the diagnosis when it came, gave her some relief. "My eyes welled up, because I was so tired of being in pain. Of sleeping on the couch. Of waking up throughout the night. Of throwing up. Of taking things out on the wrong people. Of not enjoying life. Of not seeing my friends. Of not having the energy to take my baby for a stroll," she explained.
And now, in a new interview, the 32-year-old model has revealed she is concerned her symptoms could return again following the birth of her young son.
"Postpartum [depression] does not discriminate. I couldn't control it. And that's part of the reason why it took me so long to speak up: I felt selfish, saying aloud that I'm struggling. I've never had more respect for mothers, especially mothers with postpartum depression."
"Do I worry about it [postnatal depression] with this little boy? I do," Teigen revealed during a Create & Cultivate Conference in Los Angeles.
This time, however, she said she was ready for it.
"But I also know that when it does happen - if it does - I'm so ready for it. I have the perfect people around me for it. That's why I stand for a real core group of people around me."
Speaking about how postnatal depression affected her despite acknowledging her "incredible life" and having "all the resources necessary", Teigen said that she knew now that this didn't mean she could brush off her feelings.
"I had just had Luna," she explained. "I knew I had an incredible life and husband and family and all the resources necessary. I knew that I was personally unhappy, but I didn't think that anything was wrong with it because I just assumed that that's the way it goes.You have a kid, you're sad, you lose those endorphins and that's the way it is."
She said that now, she wishes she had spoken up sooner, acknowledging that she suffered in silence for ages and urged other mums not to do the same.
"I do wish that more people had spoken up around me. I encourage anyone who sees something around them to point it out," she recounted. "It took me to finally sit myself down because I think it's hard for people to point something out."
Her words are encouraging and no doubt inspiring to any mum who has felt the same.