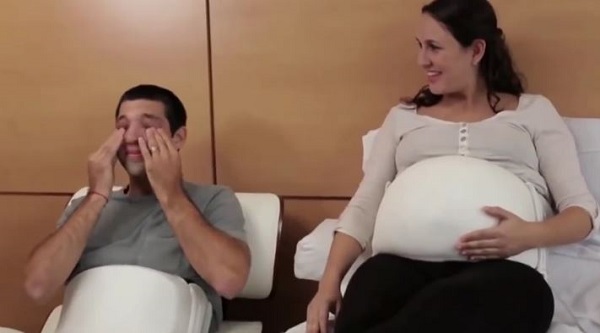 How many times has your other half turned to you and said that they wished they could carry your baby for you? While this is usually uttered in the more frustrating moments, we cannot deny that there are so many exciting parts of pregnancy that the men miss out on – such as feeling your little one kick!
We're sure there are a lot of fathers out there who would love to experience that moment, and feel that love in their tummy – but it seems that a few were actually lucky enough to be able to.
A gorgeous video, shared to the Sacrée Maman Facebook page, shows what happened when a group of dads-to-be strapped on a specially crafted sensor that allowed them to feel their unborn tots kicking in their partners' bellies.
Trop beau... Des chercheurs ont mis au point un capteur sensoriel pour que les papas puissent sentir leur bébé bouger Source/Huggies - Dia dos Pais Grávidos

Posted by Sacrée Maman on Saturday, February 27, 2016
The results are nothing short of beautiful – the fathers are amazed and overwhelmed, and they can't help but wipe away tears and embrace the mums-to-be as they experience the phenomenon.
Unfortunately for those looking to get their hands on one of these sensors for their own partners, it was apparently created especially for a commercial, but at least we get a little insight into what it's like.
SHARE if you would love for your other half to have this experience.