An expectant father serving in the US Navy has found a novel way to join his wife during her maternity photoshoot.
Nicole Bedwell of Texas found out she was pregnant in November. A month later, her husband Wesley was deployed overseas. During his five months of service away from Nicole, he missed precious moments of baby girl Pyper's development.
During a maternity shoot, Nicole and photographer Tracy Fugitt, of Traci Lynn Photography, came up with an idea to have Wesley share his and Nicole's special moment, and crop Wesley into one of the photos.
The photo, named '7,000 to Pyper' has gone viral. Photographer Traci Fugitt photoshopped two separate images together, closing the wide gap between the two parents. Dad Wesley is pictured in his military uniform, kneeling on the ground with his hand out towards Nicole's belly.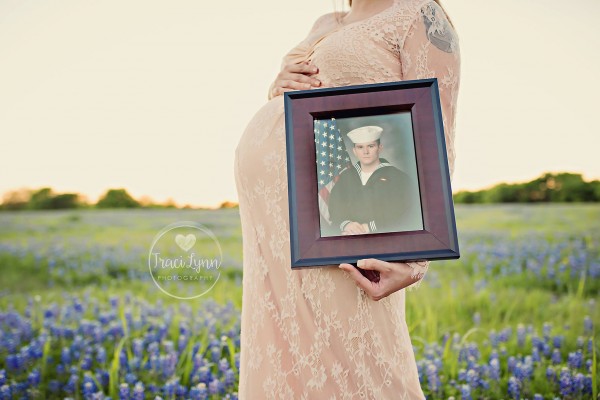 "It was just something we talked about," Bedwell told US website Inside Edition. "I just wanted him in the picture because he wasn't able to be here during the whole pregnancy, so she cropped him in."
19-old-Nicole spoke of the difficulty of being pregnant while her husband was away: "It's been really emotional for me to have my husband gone my whole pregnancy, so the fact that Traci was able to include him in my maternity session was very emotional.
"We will never be having our first child again. He's my family, so having him included touched my heart. It made me happy."
Traci tried to incorporate Wesley's presence in other ways. Nicole posed with his and Pyper's belongings, including baby shoes and military dog tags. However, the two photos joined together is the most touching.
According to Inside Edition, Bedwell developed hypertension and was induced into labour on Wednesday. Wesley was reportedly allowed to come back home to be by her side.
Nicole Bennett chose to honour her late partner in a similarly touching way last year. When Deonta Bennett died while they were expecting their second child, she had his image added to her stunning maternity photos. Photographer Sidney Conley was even able to make it look as if Deonta was embracing Nicole's baby bump.
Nicole said: "He would've been so excited, just like when we did our engagement photos. And just to top it off he would've been much more excited because he had his baby girl."