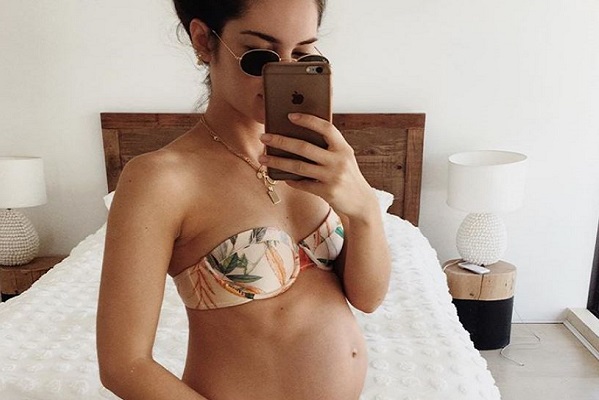 Fashion designer Yiota Kouzoukas has opened up about her tiny baby bump which has received a lot of attention online. The-mum-to-be explained why her bump is so small, even though she is nine months pregnant.
Yiota's has shared many photos of her bump throughout her pregnancy journey on Instagram, but many of these stunning photos have been met with comments about her petite bump.
In an interview with Femail, the businesswoman revealed that she had a 'tilted' uterus for the first few months of her pregnancy. The 29-year-old explained that her uterus was growing backwards, instead of outwards.
Usually, people with a tilted uterus will tilt forward three months into their pregnancy, meaning their uterus 'flips forward'.
However, due to her retroverted uterus and endometriosis scarring, Yiota's bump didn't start growing forward until she was nearly six months into her pregnancy.
As well as this condition, she explained that she is naturally toned and has a small torso, so she expected her bump to be small.
Just before 2018, the Sabo Skirt co-owner posted a photo of her growing bump alongside the caption, "Belly beach day. I'm going to miss you kicking around in there lil bae! I didn't understand how people could miss being pregnant but now I get it! #9monthspregnant."
The Brisbane beauty shared that she hopes she will inspire other mums by documenting her story.
Along with her sister, Yiota hopes to raise awareness for endometriosis, "It's important to get support. Endometriosis does leave people feeling isolated."
She asked fellow-expectant mums to visit their doctor if they are concerned about the condition. For more information on endometriosis, click here.