My Expert Midwife, the award-winning skincare brand for pregnancy, birth and beyond, has unveiled a duo of products to help women through pregnancy, labour and recovery.
The Marvellous Massaging Stick has been developed to help relieve tension during pregnancy, pain during labour and aid post-birth recovery.  Developed by midwives, the stick contains a natural massage balm containing essential oils to help women feel calmer and more grounded.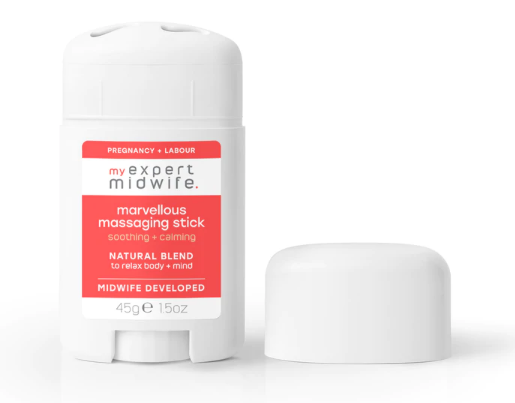 Massage in pregnancy has been proven to relieve common complaints such as muscular and sciatic pain, headaches and sinus pain, swelling and even constipation. Studies show that women who receive massage in labour report lower pain scores, decreased anxiety and higher rates of satisfaction with their birth experience than those who are not massaged.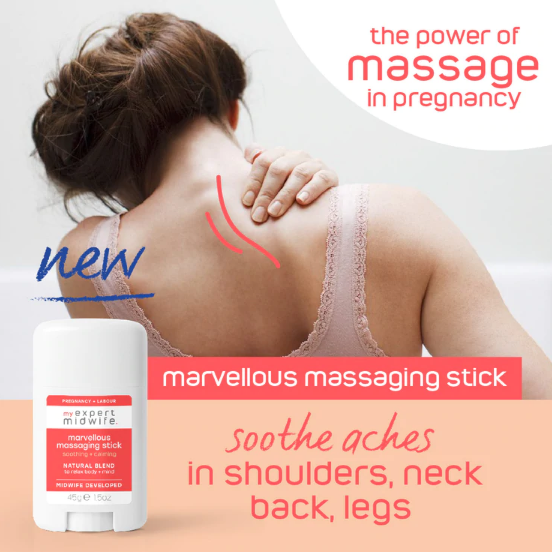 The unique massage stick was developed by midwives to build on the soothing power of massage to help women during labour, especially the early stages where pain in the lower back is common. The device was designed to apply firm pressure to the sacrum area and gives women who prefer self-massage better reach and pressure. Inside the stick is an expertly blended massage balm which includes calming essential oils, including Frankincense, geranium and bergamot to help relax and soothe the body and mind and help women feel grounded. Its skin-nourishing ingredients, shea and cocoa butter, help to reduce inflammation as well as hydrate and protect the skin.
The one-of-a-kind massage stick is easy to apply, melts into a nourishing balm on the skin and leaves no mess. The clever twist-up applicator can be used to dispense just the right amount of massage balm and excess balm can 'twisted back' into the applicator to minimise waste.
Super Scar Recovery Oil has been developed by midwives to help improve the appearance and condition of scar tissue, whether it is from C-section, episiotomy, tears, stretch marks or general scarring. The natural oil is expertly blended to help soften and soothe scar tissue through massage.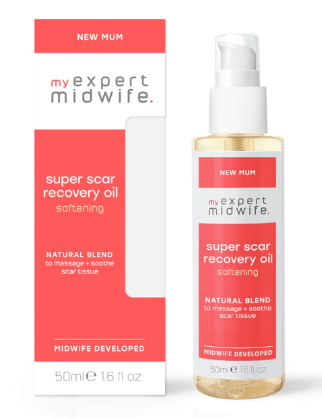 Using a massage oil with a regular massage technique can soften and aid the breakdown of scar tissue and can also reduce the uneven feel and appearance of the skin. Perineal scarring can cause discomfort and rigidity but massaging with an oil can help break down scar tissue to enable the perineum to stretch more easily in subsequent births. Massage can also help women reconnect their body and mind which may also help with processing feelings surrounding their birth experience. To extend the power of massage, the Super Scar Recovery Oil contains anti-inflammatory and fragrance-free onion extract which has been proven to improve the condition of scar tissue and help reduce redness and itching. Moisturising castor oil and vitamin E leave skin feeling soft and supple, whilst lavender and geranium essential oils are calming and soothing and provide a gentle, relaxing fragrance.
Marvellous Massaging Stick and Super Scar Recovery Oil are both available to purchase now from myexpertmidwife.ie for €20.00 each.