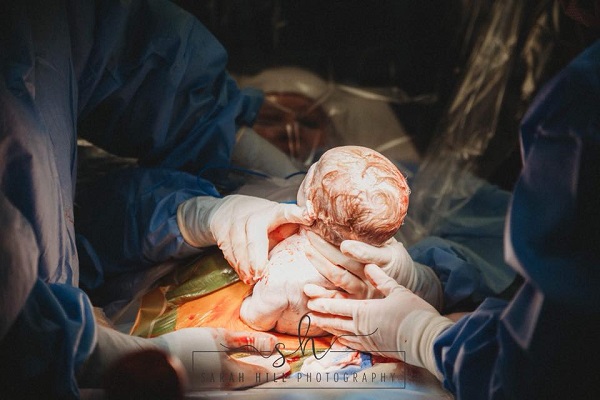 Midwife and mum, Emily Dial has been present at many births.
So when it came to her turn to give birth to her third child, she wanted to be involved. The third child to be delivered through C-section, Emily gave birth at the same hospital she works at in Kentucky.
Thanks to the presence of photographer Sarah Hill, the moment where Emily pulls her own child out is gloriously captured.
Emily, who was expecting a boy, told People that pulling the baby out was a sublime moment.
"It was a perfect moment. It was probably one of the most perfect moments of my life," she said. "I was in shock and awe. I really wasn't thinking about my belly being wide open. I was just like, 'Oh my God! This really is a girl.' "
Adhering to midwife practise, Dial scrubbed in for the birth and wore gloves during the procedure. She had a plastic sheet draped over the top of her body and avoided kissing baby Emma too soon after deliver in order to "maintain sterile technique."
Ever the midwife!
Emily gave birth through C-section each time. Her first child, son Grayson, only lived to 10 days due to health complications. When giving birth to now 4-year-old Ella, Emily was too unwell to participate. This time around she was determined that things would be different.
"I pulled my own baby out! It's gonna be really difficult in the future to top that moment," she gushed. "I had the [plastic] drape in front of my face and, trying to maintain sterile technique, I couldn't kiss [Emma]. I just kept bringing her up to my face and looking at her, like, 'I just want you in my arms so much.' "
For Sarah the photographer, the moment was also extra special, as Emily had helped to deliver her baby just two years ago.
"You follow women through their whole lives. You don't just get them at their birth, you get them through their whole lives," Emily says."I know [Sarah] had a passion for photography, so with my vision for my birth I said, 'Sarah, I really would like you to come.' We made it work."
Emily hopes that her story will help women embrace all kinds of birth, whether it be C-section or natural.
"No, it is not ideal for a woman to have a Caesarean deliver, but even if you do, you can still have a great experience.
"It doesn't mean you have to just be laying on a table. You can still be a part of your birth. Even if you're not pulling your baby out, you can still be an active part of your birth and have a great experience."
You go mama!