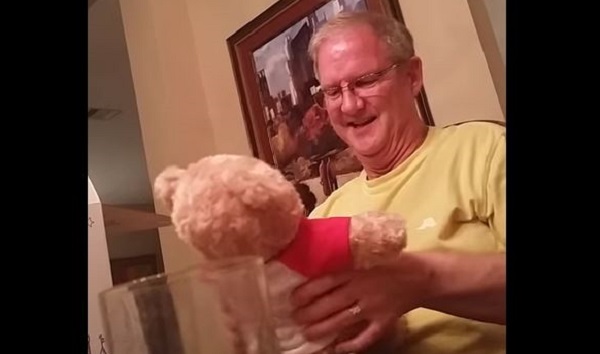 There is nothing quite like a good tear-jerking baby announcement, and anything that combines a pregnancy reveal with a cute, cuddly creature is a winner in our books. It's not hard to see why we are fawning over Sean and Jenn Sullivan's gorgeous baby announcement, then!
When the couple found out that they were expecting, they wanted to let Sean's father know in a very special way. So, they waited until his birthday and planned a very sweet surprise.
The couple created a Build-A-Bear for the grandfather-to-be, then asked him to squeeze the teddy's hand to reveal a very special message.
Initially, the unsuspecting granddad-to-be just thinks it's a cute gimmick, but when he really listens to the message, he has to fight to hold back the tears.
There's no preventing the waterworks, however, as he listens to hear: "Happy birthday, Grandpa. We'll see you in October!"
As if his tears of joy weren't sweet enough, what do you think the overwhelmed granddad-to-be does next? He HUGS the teddy as though it were a real baby!
It's safe to say that this little tot is going to be loved to the moon and back.
SHARE this video to warm the cockles of another's heart.