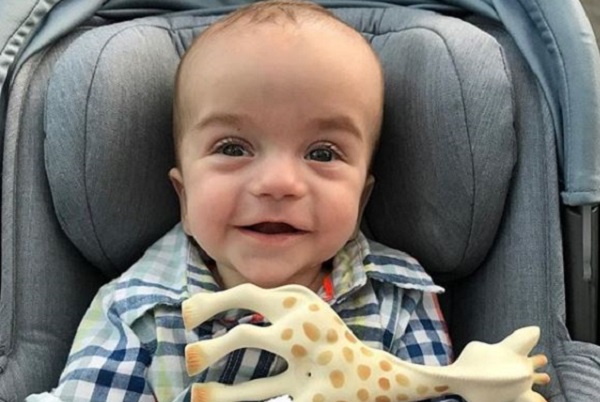 Jimmy Kimmel has shared a heart-warming photo of his son Billy in honour of his six-month birthday.
The doting dad shared a sweet photo of his son on Instagram, where the baby boy can be seen smiling.
He wrote, "Young Billy is six months old today. He is healthy and happy, and we are all very grateful for your prayers, good wishes, thoughts and support of @ChildrensLA and children's hospitals in your area."
The TV host has been honest about his son's health issues. Billy underwent open-heart surgery for a birth defect when he was a mere three hours old.
His father Jimmy admitted that it was the most harrowing moment of his life. He opened up about the experience in an emotional monologue on his show.
Within hours of delivering Billy, Jimmy's wife Molly and the TV host were told their son had four heart defects.
Billy was diagnosed with Tetralogy of Fallot with pulmonary atresia.
The doctor's main concern was his damaged pulmonary valve. The team at Children's Hospital Lose Angeles worked tirelessly to repair the obstructed pulmonary valve. The role of the valve is to allow blood to leave the heart via the arteries.
Jimmy has been campaigning tirelessly to protect Obamacare. He believes every family should be entitled to the best healthcare.
His son's health problems showed the father-of-four how precious life can be.
He spoke about the issue in his monologue, "The reason I'm talking about this is because my son had an open-heart surgery, then has to have two more, and because of that, I learned that there are kids with no insurance in the same situation."
Jimmy revealed that Billy will need to undergo two more procedures in the future, but despite that, he is doing well.
He told The Hollywood Reporter, "We would like to get [the surgeries] over with and not have to think about it all the time, but it could definitely be worse."
The Jimmy Kimmel Live host stated that he doesn't want his son to worry about him as he grows up. He wants Billy to live a happy and care-free life.
He shared that his son shouldn't have to deal with his parent's worries, "I think he's going to have enough to worry about growing up with this questionable heart in his body."
He went on to say he hopes Billy will have a normal childhood, "I just want him to worry about hitting a home run in Little League."
We are delighted to see baby Billy looking so smiley and healthy.