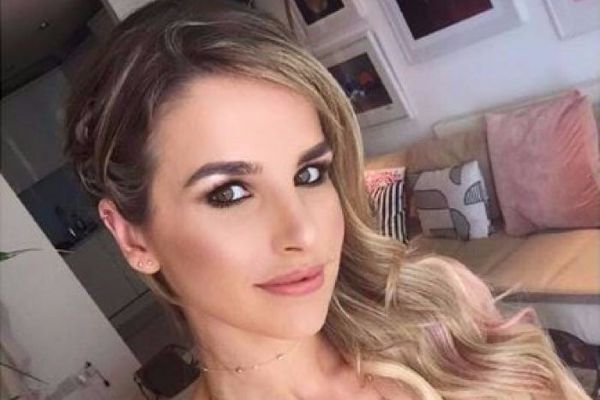 When we're expecting, it often feels like everyone has unsolicited advice for us. And while we do appreciate the concern involved, the barrage of well-meaning voices can actually prove immensely stressful.
At times this concern even crosses the line into mummy-shaming, and Vogue Williams has experienced firsthand how difficult it can be dealing with a chorus of commenters critiquing her motherhood journey.
The Irish model is expecting her first child with fiance Spencer Matthews, and considering that she has 287K followers on Instagram, plenty of people are chiming in with their opinions on pregnancy. As a first time mum, Vogue has found this quite overwhelming.
"It got to the point about two weeks ago where I actually started worrying because so many people were like, 'You should be bigger at that amount of weeks'," the 32-year-old told Irish Tatler, "So, I went to the doctor and everything is completely normal, the baby is completely healthy and fine."
Vogue has continued to share videos of her fitness regime, which she has changed slightly since becoming pregnant. She says that she only posts something on Instagram if whatever she is doing healthy for both her and her baby.
"I'm listening to a doctor, a nutritionist and a personal trainer," the RTÈ presenter noted, "If I'm doing something and I'm posting about it and it's on my page, it's healthy to do to. I'm not going to do anything to put my baby at risk."
The 32-year-old joins many celebrities who have spoken out against mummy-shamers, including A Quiet Place star Emily Blunt.
"I think there is a huge societal pressure on women when it comes to motherhood, this sort of mummy cult that goes on," the mum-of-two observed at the world premiere of The Girl on the Train.
"And I think it sort of makes women feel that they have to be a bit defensive about the choices that they make, whether they want to be a mother, whether they don't, whether they want to breastfeed, whether they don't. I could go on and on."
Besides mummy-shaming, Vogue says she has also experienced professional difficulties since announcing her pregnancy back in March.
Without mentioning the names of the brands involved, the former Dancing With the Stars contestant says that she has been dropped by clients since they discovered she was expecting.
"A couple of brands that I loved working with, and was contracted to work with for another year, dropped me... that was straight after the pregnancy when I was literally about to sign the contract. It just felt like, it's hard enough to be a woman without having to put up with this s**t too," the Dublin native said.
The mum-to-be is one of many women who lose out professionally because they have or are expecting a child.
A study from France has found that mums are paid 3 percent less than their female counterparts without children. Men, on the other hand, do not experience this difference, known as the 'motherhood penalty'. Apparently this pay gap becomes pronounced after a woman welcomes her first child.
As well, Acas, a conciliation service and non-departmental public body of the UK government, observed an unsettling trend related to working mums and mums-to-be.
The organisation reported that they received 14,000 calls in 2016 on pregnancy and maternity discrimination, a 10 percent increase from the year before. In response to this, Acas gave recommendations to ensure employers in the UK better accommodate mothers and pregnant women working for them.
There's still a long way to go for working mums, and Vogue's experience highlights this disheartening societal issue. From mummy-shaming to professional difficulties, mums and expectant mothers need more support.