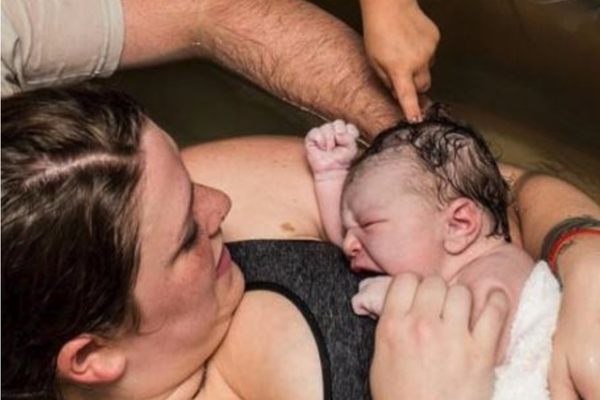 Mum Jynessa Weed, 25, was 40 weeks pregnant with a little girl last September.
But as her previous pregnancies ended in being induced and a C-section, she didn't expect to go into labour by herself.
She was still working and, at about 2pm, she began to feel an uncomfortable sensation in her cervix.
As it was too busy to leave work, she tried to ignore it for a couple of hours.
This time around, she was hoping to have a home birth with the help of a midwife and a doula.
At about 5.30 pm, she began experiencing contractions and contacted her midwife to come and meet her at home.
Jynessa was relieved to get home and slip into her birthing pool, which she'd prepared for a water birth.
"Can I even begin to tell you how awesome it was to labour in my home?" she said.
Unfortunately, she was experiencing back labour, which was incredibly painful.
Luckily, the midwife had a TENS unit to help her manage the pain.
Just after 10 pm, a beautiful little girl was born.
"I couldn't believe I had done it! I got my home-birth, water birth," the astounded mum said.
"I looked at her in awe; I had a daughter.
"I am so proud of myself for believing in myself and my body and following my heart."
Her daughter, who she named Scout, is now six months old and totally adorable.