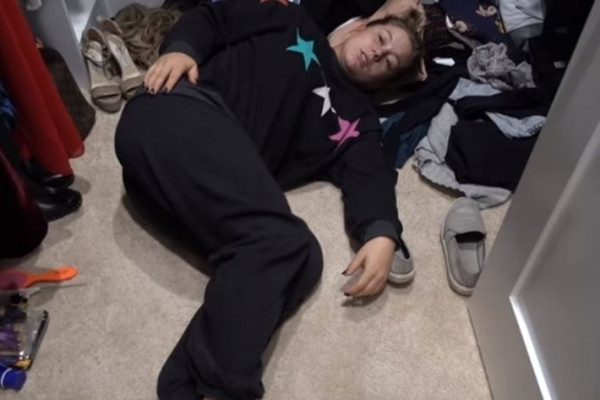 Miscarriage is one of the most difficult experiences a family will ever have to endure, characterised by an emotional rollercoaster.
Two people who can attest to this are Shawn Johnson and husband Andrew East.
Shawn, 25, is a former Olympic gymnast, and she and Andrew now host their own diary-style YouTube vlog.
The couple recently shared a heart-wrenching video, documenting their journey from finding out they were pregnant with their first child, to learning that Shawn had miscarried.
The video, which captured the highs of the pregnancy to the crushing low of the loss, really struck a chord with people online.
A week later, the couple decided to share an update in a video called 'After the Miscarriage' – and in it, they got super-real about the range of emotions they have been experiencing.
Reflecting on their 'super-emotional rollercoaster', Shawn admitted that she was touched by a feeling that so many others can relate to: guilt.
"The day I was told we were miscarrying, I felt guilty, and I felt sad," she recalled.
"I remember telling Andrew, 'I'm sorry I lost your baby', and I felt like it was something I did – I didn't take care of the baby well enough, or I was stressed out too much, or I didn't take the right prenatal vitamins.
"I felt like I had failed my baby – like I was uninhabitable, like no baby is going to live inside this belly."
And that extends to the grieving process too, with Shawn and Andrew admitting that don't really know how to mourn their loss.
"There are times where we'll go hang out with friends, and I'm really excited and laughing and having fun; but then I'll feel guilty for having fun," she added.
With regards to sharing such a 'raw and real' journey in such a public way, the couple admitted that they wanted to reach out to others who have gone through the same experience.
They went on to thank all of their followers for their kind wishes and support, which have been flowing into the comment section.
"I love you two. You guys are unbelievably strong, and I had my class pray for you two. My teacher shared that she's gone through that also, and it's hard," wrote one follower.
"Thank you guys for being so open and honest with all of us! Keeping you in our thoughts and prayers," added another.
"You guys are so strong. Thanks for being so open about something so heartbreaking. You guys have been in our prayers," read another heartfelt comment.
We could not agree with them more.