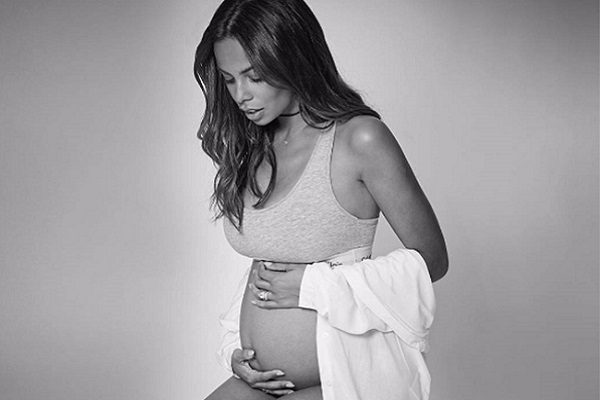 She is currently pregnant with her second child, and Rochelle Humes has been only too happy to share beautiful photos of her bare bump with the world. And it's no wonder – the woman doesn't even have a hint of a stretch mark!
Now, before you go saying that she obviously has some kind of fancy, expensive formula for avoiding stretch marks, she has just shared her secret – and it's actually pretty straightforward. Rochelle battles stretch marks with stretch mark oil; LOTS and lots of stretch mark oil.
The 27-year-old, who is already mum to three-year-old daughter Alaia-Mai with husband Marvin, shared her beauty regimen this week during an interview with OK! magazine.
Admitting that she hasn't encountered a single stretch mark so far with her second pregnancy, the former star of The Saturdays said: "I use lots of stretch mark oil! I have it in the downstairs toilet, the upstairs toilet, I have one in my car."
"Whenever I'm bored, I put more on. I've ruined so many tops as I'm like a wet fish! I haven't had a stretch mark yet, so I'm obsessed with it."
She added that she tends to apply her products generously when she feels an itch coming on. Rather than scratching the skin, which is said to cause the marks in the first place, she 'loads' on the oil.
It certainly is a very exciting time for the mum-of-one. As well as preparing for the arrival of baby number two, Rochelle recently celebrated the launch of her own brand, consisting of face and body cosmetics to suit every skin tone.
What do you think of Rochelle's tips for avoiding stretch marks? Do you have any tips of your own to add? Let us know!