While most people become heroes because of their actions, it would appear that 78-year-old James Harrison was always meant to do amazing things.
This is quite literally the case, as the Australian – known as 'The Man with the Golden Arm – has managed to save a whopping two million children all over the world, thanks to his rare and special blood type.
James underwent an operation to remove a lung when he was 14, receiving 13 units of blood from various different donors during the procedure. Doctors later contacted him to inform him that his blood carried an unusual antibody which could save lives, and he worked with them to produce an injection called Anti-D.
Anti-D was created as a cure for pregnant women suffering with rhesus disease, whereby their blood begins attacking their unborn child's blood cells. This can result in brain damage, or even death, for these unborn babies; but thanks to Anti-D, doctors were able to prevent mums-to-be with rhesus-negative blood from developing the disease-causing antibodies.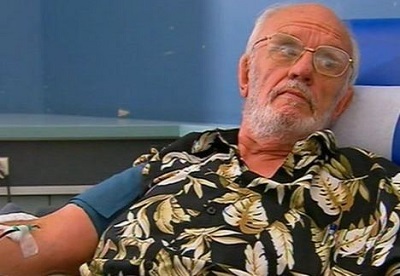 James has been donating his plasma for 60 years now, with his precious blood saving millions of children all over the world. While doctors have never been able to pinpoint exactly why he carries the rare blood type, there are 49 other known carriers in Australia.
Commenting on the significance of James' gesture, Jemma Falkenmire of the Australian Red Cross Blood Service said: "Every bag of blood is precious, but James' blood is particularly extraordinary. His blood is actually used to make a life-saving medication, given to moms whose blood is at risk of attacking their unborn babies…he's helped save a lot of lives."