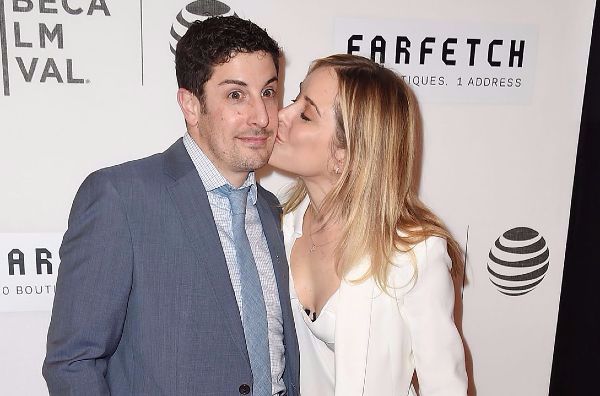 Mums around the world are praising Jenny Mollen for showing off her C-section scar. The mum-of-two took to Instagram to share a snap of her post-baby body.
Jenny shared on Instagram, "I just met my new C-section scar for the first time this morning." She bravely posted a picture of her tummy, where you can clearly see the scar.
She praised her doctor for doing such a great job, "Thank you, Dr Albert Sassoon, for your artistry."
The mum joked, "I wish somebody had shown me a pic like this nine months ago, I'd like to insist this be your new business card."
Mums flooded her Instagram post with words of encouragement and support, appreciating how Jenny is keeping it real. One wrote, "Thank you for sharing your journey!"
Another added, "Loving your honesty. Just home, through an emergency C-section."
One mum was envious of Jenny's doctor's skills, "Barely visible at all! I wish mine was that good. Even though the scarring is minimal now, I notice it. Yours looks amazing!"
Jenny is well known for her frank and honest attitude. She isn't afraid of showing people what motherhood is really like - the good and the bad sides. She believes it will help other mums to feel reassured.
Both Jenny and her husband, Jason Biggs, were extremely open about becoming parents for the second time.
The pair documented her pregnancy journey, even when she went into labour.
The American Pie star posted videos throughout the day, from Jenny's first contractions to the moment she was wheeled into the delivery ward.
Jenny even posted a photo with Jason and Dr Albert Sassoon in the hospital, joking, "This man claims he doesn't know anything about Instagram, and yet every time I talk to him, he knows exactly what is happening on my Instagram."
Father-of-two Jason admitted that he was feeling nervous about having a second child, but believes fatherhood has had an overwhelming impact on his life.
He shared, "The change that happens is so tangible. It happens overnight, and it's the craziest thing."
He admitted that becoming a father in 2014 was a life-changing experience. His wife gave birth to their first son, Sid, on February 15, 2014.
Jenny and husband Jason welcomed their second child into the world on October 2. Their son, named Lazlo, weighed a healthy 7lbs 1oz.
Jason introduced his fans to Lazlo on Instagram earlier this month, "Lazlo Biggs. He is amazing and @jennyandteets2 is my hero. Sid and Lazlo and I are so lucky she is our mama/wifey."
We love how honest Jason and Jenny are!