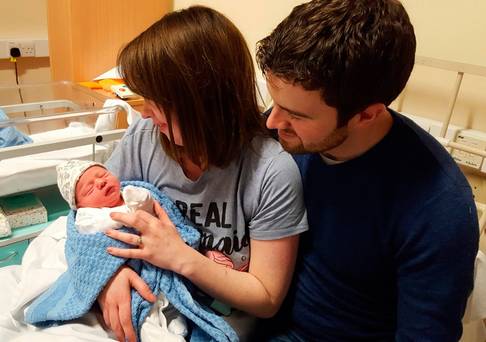 When Stephen Connolly's wife Lisa's contractions started at 4.30am yesterday morning November 29, it would be a straight run to Holles street.
This was their second baby so the couple were somewhat prepared for the event.
At 8am Lisa advised her husband "we need to make a move". Everything remained under control as they dropped their son Jake to the crèche in Celbridge, before making their way to the hospital.
The contractions were 10 minutes apart at this point and "Lisa was cool as a cucumber", Stephen told The Anton Savage Show.
We were a bit late to this morning's impatient baby born in mum's car on the way to the hospital outside Kevin Street Garda station 1/2 pic.twitter.com/RYik2PPQab

— Dublin Fire Brigade (@DubFireBrigade) November 29, 2016
However, they hit rush hour traffic on the N4 and arrived at Christ Church about 9.10am.
Lisa's waters had broken and the contractions were now five to six minutes apart.
The mum then announced that she "had to push", to which Stephen reportedly replied: "Don't you dare push on me".
At this point Stephen put his hazards on and made a dash up the wrong side of the road on Kevin Street towards Holles St.
Then Lisa shouted that the baby was coming out, and Stephen looked over he could see the bump of the baby's head pressing on her trousers.
On the line now, Stephen Connolly who is still in Holles St after a SERIOUSLY busy morning yesterday attempting to get to the hospital pic.twitter.com/QUuz5Hbk3K

— TheAntonSavageShow (@AntonSavageShow) November 30, 2016
After pulling over to the side of the road, Stephen was assisted by a cyclist who called the ambulance.
"I ran around to Lisa and by the time I was around the baby was half way out. I pulled him out the rest of the way."
Stephen was able to assist Lisa with the birth of their son Jonah as the paramedics talked him through clearing the airways. Luckily baby Jonah cried straight away.
"It was no big deal" Stephen said.
The paramedics arrived within two minutes and took care of both mother and baby. Proud father Stephen cut the cord before Lisa and Jonah were taken to hospital.
Our ambulance and fire crew provided care to both mother & baby boy before transporting to Holles St Thanks to @GardaTraffic for assistance pic.twitter.com/LyILY2Qmus

— Dublin Fire Brigade (@DubFireBrigade) November 29, 2016
Rumour has it that Baby Jonah's second name will be Kevin after his birthplace.