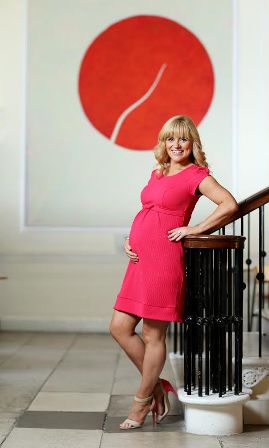 When I was 12 weeks pregnant, I felt absolutely huge. Walking into the office, I was convinced people were eyeing up my thickening waist and noticing my surreptitious trips to the canteen for toast at 11am.
I rang Oasis who provide my clothes on Xposé and said, "This is a little embarrassing, but I've put on a bit of weight, so can you send me out some bigger sizes?" I thought I would be rumbled straight away. In fact, most of the weight I was putting on was going straight to my boobs. As I looked in the monitor in studio as we were recording Xposé, all I could see was the uncomfortable puckering of material as the fabric groaned over my expanding chest.
So although I was hoping to leave it for longer, I told work I was pregnant at 15 weeks. And as soon as I did, I was so relieved. Mostly because I could now brazenly wear my easy pull up maternity jeans with stretchy waistband and embrace my ever expanding tummy.
As the lovely well-wishing from viewers started to trickle in, so too did the comments such as "Oh I can't wait to see your maternity style!" Gulp! Why so eager to see me in my trackie bums and sloppy sweaters? Then I started to panic. How was I going to try and look decent and semi-glam on TV five nights a week?!
The thoughts of shopping turned me off my 11pm bowl of Crunchy Nuts, so I started to look online, which meant I could shop from bed and it wouldn't rudely interrupt my snacking schedule.
My former colleague Michelle Doherty had glided through pregnancy in a haze of summer maxis from ASOS Maternity, so that became my first port of call. And it soon became my maternity mecca. There I found cool T's, ripped skinny jeans and pretty swing dresses. Not just the usual stripes and bows that seemed to adorn every other maternity top I saw online.
My other go-to site was
www.bumpsnbabies.ie
, a great Irish website whose dresses are so comfy, you could sleep in them.
Mothercare has also been great for staples and knitwear in particular, so at nearly 8 months pregnant, I think I've now got a handle on how to dress myself and bump.
A few things I have found to be essential are:
1. Good bras. I got fitted in Mothercare with lovely padded ones, as even though my bust increased a little, it still wasn't enough to tempt me to forgo a little help in my cups.
I also hadn't realised how uncomfortable the under wiring had become in my old bras. Also the fitter advised against wearing an underwired bra altogether. So they've gone out the window for now.
2. Maternity opaque tights - M&S have great maternity tights, and while they don't look particularly sexy as they go all the way over your bump, they do provide some extra support and are very comfortable.
3. T-Shirt tops from Penneys Maternity. They wash so well and will last me long after baby is born, so they've been a great affordable find.
In terms of my new beauty regime, I've been religious about taking my Pregnacare supplements every day. It ensures that I'm getting the right levels of vitamins and minerals such as magnesium, zinc and Vitamin B12 . Luckily these have an added bonus of being great for hair, skin and nails! So while my nails are still in good nick, I've been trying to get sneaky manicures any chance I get. My husband says I'm the most pedicured woman in Ireland, but as I keep saying, there'll be little time for treats when I'm elbow deep in nappies!
I've been fanatical about greasing up my bump. I've been trying a few gorgeous products and my favourites are:
1. Burts Bees Mama Bee Belly Butter. I was sold on the name before I'd even opened the tub.
2. Kiehls Superbly Restorative Argan Dry Oil. A great "oil-rounder" and I even rub the leftovers from my hands onto the ends of my hair for a little mini treatment at bedtime.
3. Trilogy's Rosehip Oil. I was a fan of this for a long time before I was ever pregnant.
My hair has definitely gotten thicker too, which is miraculous considering it is punished every day with blow-drying, tonging and backcombing. While I've the pregnancy in general to thank for my new mane, it's also the result of looking after myself from the inside out.
Once our little one has arrived I will be moving over to Pregnacare New Mum to help me get back on my feet. I'm hoping that the fatigue-busting vitamin B12 and iron will help with the new night time regime which might not include my beloved eight hours of sleep!
To learn more about Pregnacare pregnancy supplements and their benefits visit:
www.pregnacare.ie