Kourtney Kardashian has been celebrating the soon-to-be newest addition to her family with an incredible baby shower.
Kourtney is currently expecting her fourth child, her first with husband Travis Barker.
As they prepare to welcome their little one into the world, the pair have hosted a stunning baby shower for their baby boy.
Sharing an insight into the special day to social media, Kourtney and Travis opted for a Disney theme for the party.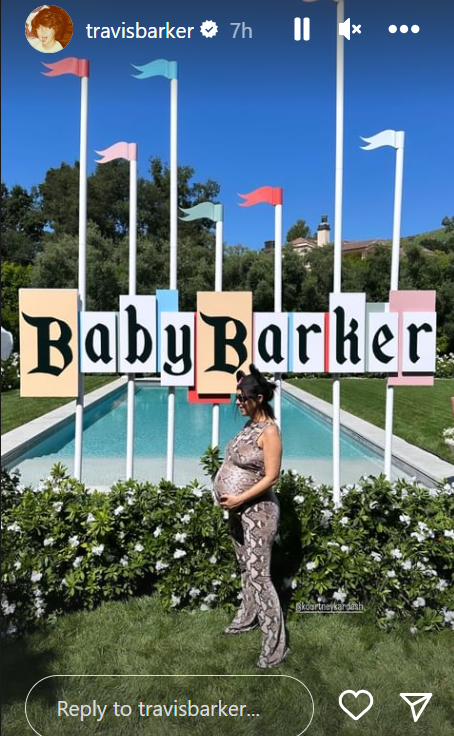 Posting a collection of photos to their millions of Instagram followers, 'Kravis' delighted fans by giving a glimpse at the baby shower.
The decor of the get-together was vintage Disney and the Kardashian-Barkers went all out with tall flags and a sign that reads 'Baby Barker' to welcome guests, as well as a colourful balloon arch entrance and Mickey Mouse-shaped balloons for everyone to grab.
There was even a barbershop quartet singing as guests entered the party and personalised Mickey Mouse hats for Kourtney and Travis' loved ones.
Party-goers were treated to a huge assortment of food including popcorn, pretzels, fruits platters, and plenty of sweet treats.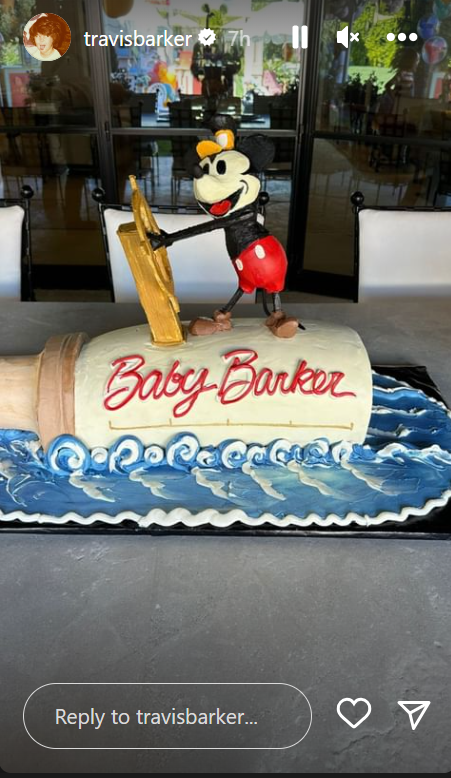 The beautiful baby shower cake was in the shape of a baby's bottle on its side with a vintage Mickey Mouse posed on top of it as if it were a boat. 'Baby Barker' was iced on the front of the elaborate cake.
When sharing snaps to her Instagram Stories, Kourtney wrote, "Special day. Happiest place on earth".
Kourtney looked stunning in a bump-hugging snakeskin jumpsuit, while her hubby kept it casual in a skeleton-print hoodie.
Kourtney's sister Khloe also posted footage from the day to her 312M Instagram followers, unveiling the photo booth that she made use of with her children Truth and Tatum.
Her videos also showed their mum, Kris Jenner, dressed in blue silk pyjamas and donning a personalised Mickey Mouse hat.
Kim Kardashian was also in attendance with her little ones and showcased the day on her TikTik account that she shares with her daughter North.
While giving a behind-the-scenes look at the baby shower, their video unveiled the sweet 'Wishing Tree', where guests could leave a message for Kourtney and Travis before their baby boy arrives.