Shaughna Phillips has addressed rumours on social media that she's given birth to her first child.
The former Love Island star announced that she was in early labour at the beginning of this month and her latest Instagram Story had her fans convinced that she'd already welcomed the birth of her baby.
Shaughna has now shut down rumours that her baby has been born and revealed she is still very much pregnant.
Taking to her Instagram Stories, Phillips posted a mirror selfie showing her blossoming baby bump.
The former reality TV star wrote, "Sorry guys I think I made a few of you think baby was here after I shared my placenta plus box!".
"Baby is still very much snug as a bug it was just the preparation kit that was delivered".
Shaughna excitedly added, "4 days until due date my lil Aries baby".
The 28-year-old had fans speculating her little one had arrived as she asked her followers for advice on breastfeeding pumps, as well as sharing a photo of a Placenta Plus box that read, 'Contains human tissue'.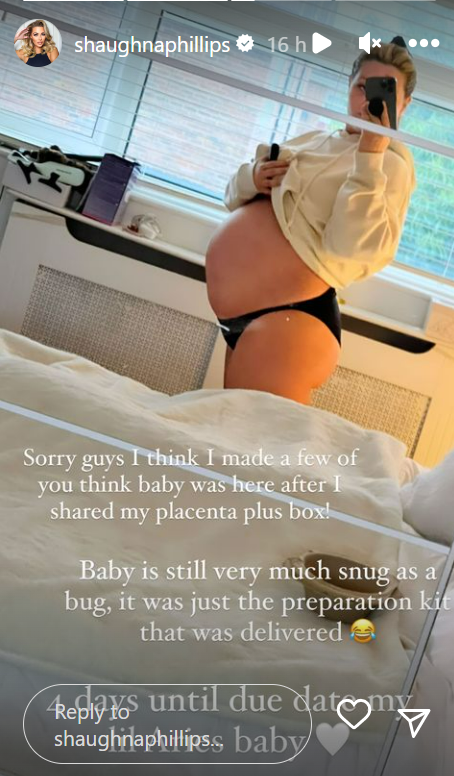 This service can turn a mum's placenta into pills or gummies for her to take after the baby has arrived, which is also why fans thought she'd given birth.
When revealing she had gone into early labour at the start of March to her 1.4M Instagram followers, Shaughna explained, "I had my last job before baby this morning, an international women's day panel, and just before my cab arrived, things took a turn".
"I was on the way to the hospital, and have been told I'm in early labour. Home now, baby still tucked up nicely, and waiting for nature to do it's thang".
Sharing more information about finding out she was in early labour, the mum-to-be said, "I noticed that I had a rash on my leg, which I then realised had spread across my bump".
"We called 111 and were told to go to A&E, which was really scary, and whilst we were waiting for a taxi, I was sick twice".
Shaughna added, "When I got home from hospital, I got a really intense pain that felt like it was pushing down, and that's when I really started to get nervous".