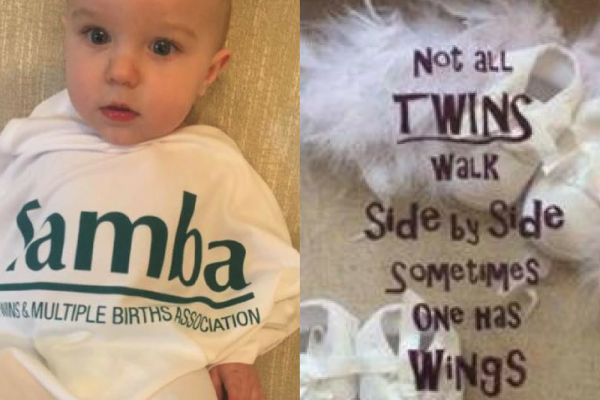 Mum Emma Dutton was thrilled to find out she was expecting identical twin baby boys at her 18 week scan. She and her partner Mark Prince were so excited by the prospect and were discussing names and plans for the future.
But just after receiving the happy news, the couple's joy was shattered when they were informed that the babies had a life-threatening disease.
After the scan, the couple were taken into a room where they were told the babies were showing signs of a condition known as twin to twin transfusion syndrome (TTTS). This occurs when one twin receives a higher blood flow from the placenta than the other and can be deadly for both babies.
Emma, 30, underwent laser surgery to try to protect the boys and initial results suggested the babies had responded well.
Just days later however, a scan showed one of the babies had died. Emma was completely devastated when she saw the image of the still baby on the screen.
"My little boy lay on the screen not moving, no little wriggles, no little bubbles, and no heartbeat. That image will never leave my memory," she told The Mirror.
Emma was told the best way to save his brother would be to carry both babies to term.
The young mum was fearful she would also lose the second baby and was scared to bond with him.
"I was convinced I'd lose the other one too," she said. "I couldn't enjoy the rest of the pregnancy. I stopped talking to my belly and I didn't want to bond with my baby in case he left us too."
After an agonising 15 weeks, Emma had a C-section on June 16 last year and delivered babies Oliver and Elijah. The surviving twin Oliver weighed four pounds and 11 ounces while Elijah was just three ounces.
It was an incredibly emotional day for the couple as they welcomed one baby but had to say goodbye to another. Oliver is now 10 months old and thriving but the couple will never forget little Elijah.
The couple are now fundraising to support a TTTS Registry which teaches medical staff about the condition in order to save other babies' lives. The fundraising page "Remembering Elijah Prince" is named in honour of their stillborn son.
The fundraising page says: "We are raising money so hopefully in time, no other parents have to lose their babies, and no other brothers or sisters have to grow up without their twin."

They hope to raise €1170 and so far have reached half of this target, with €618 donated already.
If you wish to make a donation, click here.