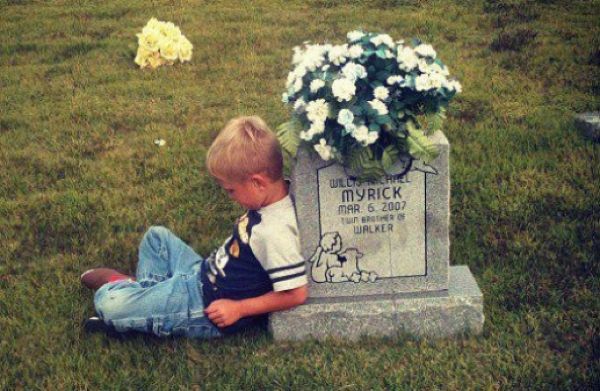 This poignant image was taken five years ago, on little Walker Myrick's first day of school.
Brooke Myrick, Walker's mum, told The Mirror: "Walker told us he wanted to tell Willis, his twin brother, about starting school."
Brooke said that when she saw him sitting at the head stone she knew she had to take the photo.
Walker's brother died at just 23 weeks gestation, from a relatively unknown disease known as TTTS.
TTTS is a condition that affects identical twins that share a placenta, and means that one of the twins receives a higher flow of blood than the other.
"We had bought two of everything," said Brooke. "It broke my heart to go home and see the double outfits we had purchased the month before."
Walker frequently visits his brother's grave, and Brooke believes that her boys have a strong connection "even in death".
Since Walker discovered TTTS, he has vowed to fight the condition and even started the Walker and Willis Birthday Walk – which will raise money to fight the disease.
Brooke hopes that sharing this moving image will raise awareness about TTTS.

"10 years without my sweet Willis does not seem right. But Willis lives on through Walker and all he does to fight TTTS."
Our hearts go out to them.