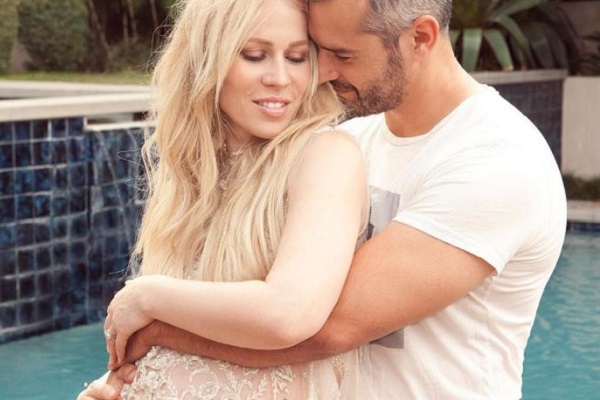 Natasha Bedingfield has sold millions of records worldwide. She's been nominated for Grammy's and BRIT awards. VHI ranked her as one of the greatest women in music.
It's safe to say that she's one talented musician. Natasha put her creative side to good use when announcing the gender of her first baby.
The Unwritten singer combined her two biggest dreams of being a mum and being a singer by announcing that she is having a BABY BOY in her music video for her new single Hey Boy.
Natasha showed off her growing bump as she stood in front of a huge screen. The words baby boy appeared behind her in giant white letters.
Fans were thrilled to hear she was expecting a baby boy. They showered the mum-to-be with good wishes.
One user wrote, "Congrats to a talented, inspiring woman! So excited for you two!"
Another shared their words of wisdom with the These Words singer, "Boys love their Mammas so much, he'll be very attached to you and your voice. Motherhood is never what you think it's going to be; follow your instincts."
Earlier this month the Pocketful of Sunshine singer shared the joyous news on her Instagram account.
She posted a sweet photo with her husband Matt Robinson. The caption read, "Matt and I are thrilled to share with you all that we are bringing a new little life into the world! We can't wait to embark on this amazing journey."
The 35-year-old's husband Matt has been a huge support to her during the pregnancy. Natasha and Matt are currently enjoying a trip to Italy. She posted a photo in a swimsuit where you can see her blooming bump.
Natasha admitted that becoming a mum has always been a huge dream of hers.
She told The Sun, "Becoming a mum is ­something I've always dreamed of but for a long time I felt it was way off in the distance. The bump is starting to really show, it's sinking in that this is really happening."
The singer is ready to embrace this new chapter of her life, she added, "I'm so excited to embrace this huge life-change."
The talented singer revealed that sharing the news was an intense moment for her, "You were a secret that I held so close and precious to me. You kept growing and as you did I felt my heart expand along with my body. Now you're showing, and with all my friends now knowing, my joy is overflowing."
We cannot wait for Natasha to become a mum. Any guesses on what she's going to call her baby boy?