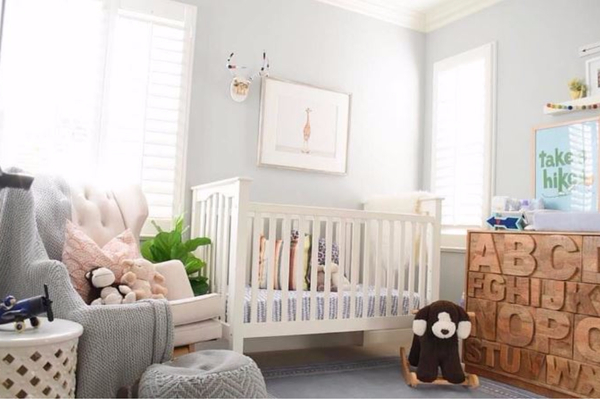 Decorating the nursery is one of the most exciting parts of pregnancy, and it's something all the family can enjoy together.
Your newborn may spend their first few months in your room, but eventually they'll need their own space...whether they like it or not!
If you're looking for some unique nursery ideas to make your baby's room really special, here are 10 themes to suit every taste.
1. Neutrals
If traditional pastel blue or baby pink nurseries aren't your thing, how about a neutral theme?
A wooden or white cot and soft furnishings in cream, beige and neutrals will achieve this look nicely.
White, beige or pale yellow are all great paint colours for this theme. Best of all, neutrals are always in style, and you won't have to redecorate too soon!
2. Hip kid nursery
Funky, soft toys cute prints and, of course, a bookshelf of classic kids' books are essential for a hip kid's nursery.
A statement light box or lamp shade can add a touch of fun to the room, while a family heirloom or older piece of furniture will give it a genuine vintage vibe.
Choose a neutral paint colour to complete the look.
3. Shabby-chic baby girl's nursery
If you're having a girl, why not opt for a shabby-chic theme?
Try floral wall decals, and use wooden letters or bunting to spell out your baby's name. For soft furnishings, try florals and checks, and pick your favourite shade of pink paint.
Add some ornate photo frames, and you can hang a frilly baby dress on the wall as a feature.
4. Scandi-themed boy's nursery
You can add a fun element like a tent, fort or tepee into this nursery, perfect for when your little guy is older.
A cosy beanbag and cushions help create hygge chic, and you can use storage boxes and funky toy chests to organise all the play things.
5. Traditional boy's nursery
A nature or adventure theme is great for a little boy's nursery.
You can try different shades of blue paint such as turquoise if you don't like pale blue.
A fake fur or shaggy floor rug is ideal - your little fella will enjoy lounging on it when he's older!
6. Twin nursery
Expecting two bundles of joy? Twins are expensive, so you probably won't have much cash to splash out on the nursery.
If the room feels crowded with two cots, paint it a light colour to make it feel more spacious.
Add a unique print over each cot to celebrate your little ones' individuality.
7. Forest nursery
This nursery is gender-neutral - ideal if you don't know what you're having.
You can either use a print or tree wall decal to make one statement wall, or paint the walls a pale green.
A varnished wooden cot, wild animal cuddly toys, prints, and a plant will add to the ambience.
8. Dinosaur theme nursery
This nursery can have a neutral backdrop; then, fill it with as many colouful cuddly dino-toys, cushions and prints as you can find. A coloured blanket, rug, and toy chest are all great additions.
Stick to soft furniture, with no hard edges, to add to the cosy feel of this room.
9. Nautical theme nursery
A nautical theme can focus on boats, sea animals, or even surfing. Feel free to interpret it whatever way you like!
It doesn't have to be just for boys, either; you can also have a little girl's room with a stylish nautical twist.
Try curtains or soft furnishings with breton stripes, and add some photos or prints of the sea to the walls.
10. Mermaid nursery
We're a bit obsessed with mermaids, and this theme is perfect for a little girl's nursery. You can give it a Disney twist with prints of Ariel, or try subtle fishscale and turquoise details.
Use a mix of pink, purple and turquoise details throughout the room. Of course, a glittery light feature or print is essential for any little mermaid.