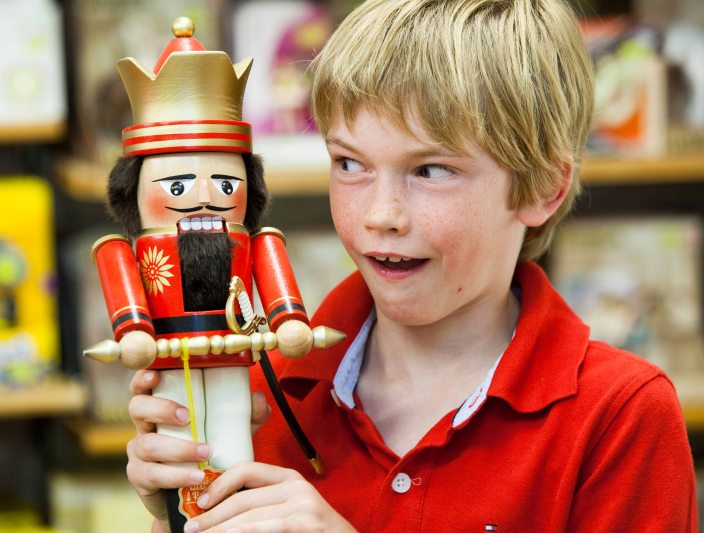 Nimble Fingers Toy Shop is celebrating their 50th Golden Christmas this weekend!
As part of the festivities, Nimble Fingers is hosting a Golden Christmas Countdown this Saturday 1st December from 1-3pm with the help of some of familiar Christmas faces, including Rudolf, Fernstrool the Elf, and The Sugar Plum Fairy. There will be Christmas tales, balloon making, face painting, and festive treats for the kids, while parents will also get some festive indulgences and be provided with the very best gifting advice available.
The Nimble team want to help parents through this crazy time, and so have put together an Alternative Top Ten Gift Guide. This will include a mixture of the best gifts for the little kids in all of us. Here is Nimble Fingers gift guide for this Christmas:
Top Ten Alternative Gift Guide
The perfect kit for your little fashionista – inspiring the next Stella, Karl, or Chanel! Kit contains: assorted fabrics, wooden manikin, basic pattern shapes, sketch book, coloured pencils, sewing needles and cotton, assorted ribbons, tips and instructions. Age: 8+
Wooden balloon powered boat, juggling balls, dominoes, playing cards, glider plane, notepad and pencil. Hours of healthy fun guaranteed! Suitable for ages: 5-99
With a knitting doll, 3 colours of acrylic yarn, a skipping rope, pick-up sticks, a sketch pad, and coloured pencils, this kit
will keep someone busy for days. Suitable for ages: 5-99
Every girls fantasy - a beautiful and picturesque dolls' residence. Home to the Pintoy family the house has 6 rooms over 3 storeys. The front fully opens, including the roof and can be extended by adding a basement unit. Dimensions including chimneys: 65cm x 35.5cm x 75.5cm. Scale 1:12. Age 3+
Rocking horses grow with baby, as side and back safety harnesses are fully removable. Rubber stoppers on rockers provide a safe rock. Size: 30 x 73 x 52 cm. Age 12 months+
Didicar is a triumph of fun over physics and is purely KID powered. Sitting on the didicar all that is required to get moving is to move the steering wheel from left to right and she moves forward. Flip the wheel 180° and it goes backwards. The two driving wheels find pushing power against one another and as the wheel is turned they drive each other forward (or backward). Didicar is simple to operate and no batteries required! No pedals, motors or other fuels or greasy chains or complicated gears. Just add kid's (Please note that adult assembly is required). Suitable for ages 3 to 30!
Watch the excitement on their faces as they get to open a new window each day in December leading up to Christmas. Age 4+
This sturdy and robust sledge will last a life time. Made of varnished ash wood with additional iron support provides extra stability. CE approved according to DIN EN 71. 90cm in length. Age 3 years (not suitable for the faint hearted!).
This pirate ship is the perfect playtime toy for your little pirate. All ready to sail, the ship comes complete with captain and crew, treasure chest and more. Great to stimulate - its realism will encourage lots of imaginative play. The versatile toy can be pushed along on its recessed wheels and is great fun for many pretend play activities. Size: W18 x L59 x H48 cm. Age: 3+
Designed for children ages 1 - 5, the Strider™ PREbike is lightweight, easy to control and features an adjustable seat and handlebars to accommodate a growing child. Most importantly, the Strider teaches your child balance, coordination, and develops confidence and is steady, stable and safe. At the first feeling of instability, your child will instinctively place his feet securely on the ground. So there are no "tricycle tip-overs" or "training-wheel wobbles" that stir-up a fear, hesitancy, or dislike of bike riding.