It's week 10 and that means you are now one-quarter through your pregnancy! During this 10th week, you will probably notice some new symptoms as well as continue to deal with some of the more familiar symptoms. Also, week 10 is a special week for your baby as the gender of your baby will finally be determined.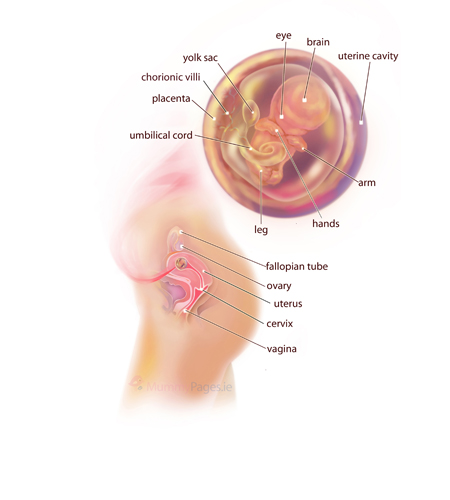 Your Baby This Week

Week 10 of your pregnancy and your baby is now about 3 cm (1.2 inches) long and weighs about 4 grammes. This is roughly the size of a prune. Just think: last week your baby only weighed about 2 grammes. In seven days, your baby has again doubled in size!
This week, your baby will either become a boy or a girl. The genital tubercle (the tissue that forms into your baby's reproductive organs) becomes recognisable. In a female foetus, the clitoris will appear and the ovaries will descend. In a male foetus, the testes appear and start producing the hormone testosterone.
Your baby's fingers are now completely separated and tiny fingernails are starting to appear. The eyes, which were slightly off to the side of the head, have now moved to the front of the face. The palate and the roof of the mouth are now formed and taste buds are starting to form on the tongue. Neck muscles are now developed – so your baby can move his or her head back and forth – and the lungs have now begun to form from tubes called bronchioles.
Your baby is now extremely active inside your womb: arms are waving, legs are kicking, and your baby can even roll over now! You probably cannot feel anything yet, but during this 10th week of pregnancy, your uterus is a big playground for your baby to explore.
Your Body This Week

During this 10th week of your pregnancy, the amount of blood in your body will begin to increase significantly. By the time you deliver your baby, your blood level will be about 40 to 50 percent higher than pre-pregnancy levels. For now, this increase in blood will make your veins in your breasts, stomach, and legs more noticeable through your skin. Nausea and fatigue are still ongoing in your 10th week of pregnancy, but you may also notice changes in your complexion, weight and even your gums.
Complexion – The increased hormones wreak havoc on some women's complexion. You could find that your skin is now blotchy looking or that you have suddenly developed acne as if you were a teenager again!
Weight – Your waist may begin to disappear now. Most women will start to notice weight gain around this time. If you are of average weight, you should expect to gain a between 7 and 18 kg (1 to 3 stone) during your pregnancy.
Moodiness – Unfortunately, with the increased level of hormones racing around in your body, you will most likely experience some moodiness. Just take a deep breath and remember that this too shall pass!
Softening of the gums – This is a rather odd symptom of pregnancy. Hormonal changes can cause your gums to swell and become inflamed. It's believed that this happens in response to any bacteria that may be harboured along the gum line. It's just another way that your body alerts you to anything that can harm your baby. If you notice your gums are swollen and inflamed, contact your dentist. A cleaning may be all that is needed.