Can you believe that it's already week 9 of your pregnancy? This week your baby officially becomes a foetus and will undergo some dramatic changes, including the loss of the embryonic tail. Your body will also undergo some noticeable changes as your breasts begin to change in preparation to feed your baby.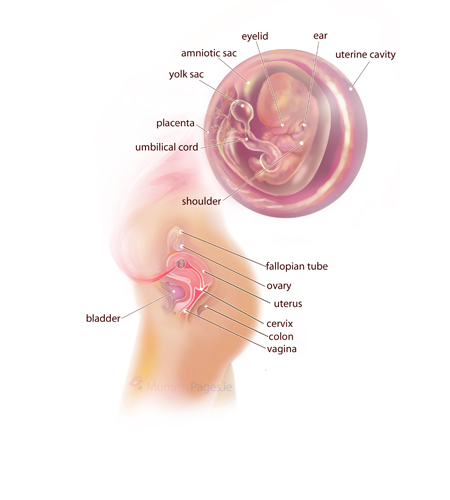 Your Baby This Week

Week 9 and – again this week – your baby has doubled in size. This week, your baby is similar in size to an olive and measures about 2.3cm (nearly an inch) and weight has also doubled and is now around 2 grammes.
The exciting news for this week is that your baby is now officially called a 'foetus' instead of an embryo. This change in status is due to the disappearance of the embryonic tail. Up until now, your baby had a tail extending from the spine. This protruding tail, which is the lower spine, has now become enveloped with muscles, buttocks, and legs giving your baby have a more human-like appearance.
The physical changes from the 7th to the 8th week are spectacular! All organs and body parts are now present in various stages of development. Your baby's heart has now fully divided into four separate chambers and the heart valves are developing. In addition to the organ and muscle development that has been occurring for the last couple of weeks, your baby now has nerves that are functioning. The eyes are completely formed now with eyelids that will remain fused for several weeks. The placenta is now performing most of the job of producing hormones. Fingers and toes are now more pronounced, and the shape of the head is looking more like a little baby's head. All major joint, shoulders, elbows, wrists, ankles, and knees are working. Even earlobes are present at this early stage in your pregnancy.
Your Body This Week

In week 9 of your pregnancy, your uterus is now about the size of a small melon. Your probably starting to feel bloating and some fatigue this week. There could be a small amount of weight gain now, but it is more than likely just water retention at this point.
During your pregnancy, your weight can fluctuate on a daily basis by as much as a half to one kilo (about 1 to 2 pounds). Therefore, it's probably not a good idea to weigh yourself every day as you could get frustrated and worried when you have lost a pound or so. If you do want to monitor your weight, get on the scale only once per week at the same time of day, and with an empty bladder. This will give you a truer indication of your weight gain.
By the time you give birth, you will have gained an average of 8 to 16 kilos (about 18 to 35 pounds). This seems like a lot to gain, but when you consider what is going on in your body, it is not. Your uterus will weigh about 1 kilo (2 pounds) total, and the placenta or afterbirth normally weighs about 0.6 kilo (1.5 pounds). Because your breast tissue grows in preparation to feed your baby, the added weight is usually around 1 kilo (2 pounds). The added amount of blood in your body during pregnancy can weigh as much as 1.8 kilos (4 pounds). The fat that is stored during pregnancy averages around 3.1 kilos (7 pounds). Factor in the size of the baby, and it all adds up. Of course these numbers are based on an average healthy pregnancy in an average sized woman. You may gain more or less. As long as your doctor tells you that your weight gain is appropriate, you should have nothing to worry about.