It's hard to believe that week 26 is already here, isn't it? The time has gone by quickly and the time remaining will seem to go by even quicker. This week, your baby's progress is marked by the appearance of testicles in boys, and the movement of ovaries in girls. As for you, you might experience a new pain this week, but it is easy to manage and prevent if you know how.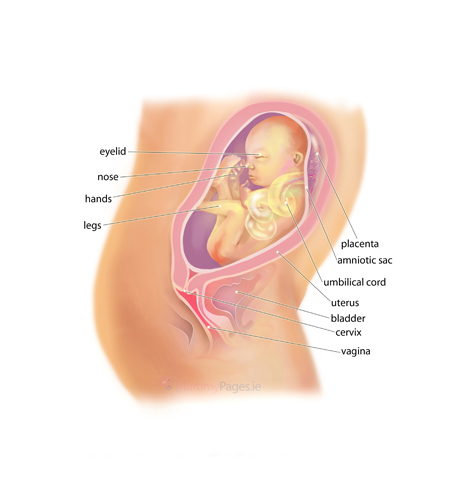 Your Baby this Week

Your baby is now around the size of an aubergine.
His weight is now close to 800 grammes (1¾ pounds) and he measures about 35cm (14 inches) long. Your baby is a bit more crowded in your womb than he was last week, but he is still able to move around quite dramatically. You feel his movements constantly now.
Your baby's ears are now more defined, and the inner nerves are much more developed making the sense of hearing much more acute. Your baby can probably hear your voice, your partners' voice, and the everyday sounds in your world.
Your baby is continuing to practice his breathing skills as well. He inhales and exhales the amniotic fluid in preparation for taking that first big breath of air at birth. The bronchial tubes are forming and surfactant, which will help your baby breath at birth, is being stored inside the lobes of the lungs.
In the 26th week of your baby is generating brain cells at an astounding rate. The areas that control the five senses – taste, touch, smell, hearing, and sight – are being finely tuned now. His skin is quite wrinkled still but will slowly gets plumped up as fat develops. As well as being wrinkled, your baby's skin is still quite transparent. If you could look inside, you would see blood vessels through his skin. The layer of protective hair called 'lanugo' is still present and will remain until shortly before or shortly after birth. If your baby is a boy, his testicles are beginning their travel from inside his body to their position in the scrotum. For a girl, the ovaries are making their way to their location. This process will take about two of three days to complete.
Your Body this Week

It's now week 26 and you are probably in overdrive trying to prepare for your precious arrival. Childbirth classes are in full swing; the nursery is almost complete; you have doctor's appointments; all this along with the normal activities required in your day. You may find that you are getting exhausted easily with this hectic pace. So, you must make it a priority to get plenty of rest, eat properly, and drink lots of fluids. It's easy to forget these things when you're busy, but you have to think of your baby first.
Your growing uterus could be the cause of lower back aches around this time of your pregnancy. As your uterus gets bigger and weighs more, your centre of gravity is shifted, the muscles in your abdomen become weaker as they stretch, and there could be nerves affected by the weight of your pregnancy. In addition, the added hormones in your body can loosen your ligaments and joints causing pain. You may feel physically worn out at the end of the day. If you are having lower back pain, try to limit the amount of time that you sit in one position. Do not lift heavy objects or do a lot of bending over. Try warm baths or use warm or cool compresses, depending on your preference, to relieve the pain. Although it's not always easy to do as your centre of gravity changes, try to maintain correct posture during the day. This will help the muscles stay in their proper position. When you are physically active such as walking, cleaning house, and standing, take frequent breaks and sit down. It also helps the muscles of the lower back if you sleep on your side with a pillow between your knees and a small pillow under your protruding abdomen.