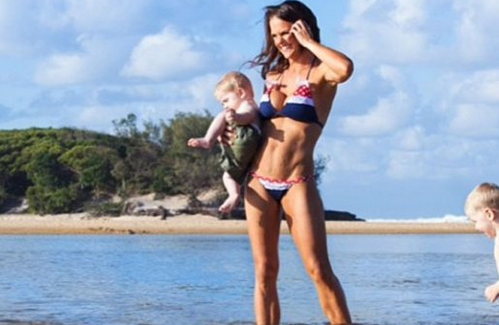 A pregnant personal trainer from Australia, has faced a lot of criticism over encouraging new mums to get their bikini bodies back, not long after giving birth.
Sharny Kieser is due to give birth to her fifth child in July and says women might be more prone to putting on weight, if they don't have something to motivate them.
"Most women have given up on wearing a bikini by the time they become mums, so it's great achieving something they had never thought possible. It opens up their subconscious and reminds them that anything is possible and they start to find themselves."
Sharny faced backlash for her remarks, with many saying she was suggesting women who had just given birth, were lazy. But the 34-year-old said it's not about body image, but rather encouraging mothers to put themselves first.
"Mums tend to put themselves last, so proving to themselves that they CAN do something for themselves without abandoning their kids, leads to them becoming better mums. Every single time. For some mums it is a bikini shoot, for others it may be a marathon, or starting a blog. Whatever it is, and whatever conduit to self-achievement, it is important; because mums have to start somewhere; and self-achievement has a cascading effect on a person's happiness."
Kieser went onto to insist that "happy mums make better mums", but health professionals are saying it's unrealistic for women to aim for a flat stomachs, after giving birth.
Sally 'Dr Feelgood' Cockburn saying a bikini body should not be a woman's life goal.
"I'd prefer to see mums concentrate on showing their kids that it's loving themselves for who they are, not what they look like that's important."
Sharny has insisted she didn't mean to cause offense and said bikini bodies aren't for all mums.
"I don't want women to hate each other and feel threatened by each other. So if a mum or a woman out there doesn't want to wear a bikini, then obviously it's not for them, but there's a lot that do."