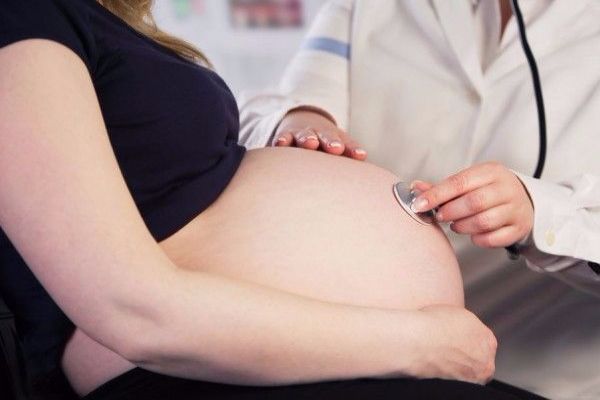 Kirsty Butler, 22, from Swansea, decided to take a pregnancy test after friends commented on her belly growing.
"I hadn't noticed myself but when I kept getting asked, I decided to take a pregnancy test," she said.
Kirsty was delighted when the test was positive and doctors confirmed she was pregnant.
Doctors informed the young woman that she must be 30 weeks pregnant because of the size of her bump.
However, an ultrasound revealed that Kirsty's big bump was not because of her pregnancy, but actually the result of a huge cyst which was growing on her ovary.
The young woman was only six weeks pregnant but appeared to be heavily pregnant because of the cyst.
Doctors told Kirsty she would need life-saving surgery to remove the cyst and that they would do their utmost to save her baby also.
Selfless Kirsty decided to wait another five weeks before undergoing surgery to give her baby a better chance at survival.
Tragically, before Kirsty could have the surgery, she had a miscarriage at 11 weeks.
"My baby had been overcome by the huge cyst, I was heartbroken," she told The Mail Online.
"When I had a scan the week before, I was told there was no heartbeat," the devastated young woman revealed.

Doctors operated and successfully removed the cyst but also had to remove the affected ovary.
Kirsty was shocked when she saw photos of the huge cyst which was 30cm by 20cm.
"I was lucky my cyst was benign but I had to have my ovary removed as it has been crushed," she explained.
"If it had been left any longer it could have started to crush my organs".
The young woman had to stay in hospital for six weeks to recover from the awful ordeal.
Carer's big 'bump' was giant CYST that had killed her baby

WARNING GRAPHIC CONTENT: Kirsty Butler, from S… https://t.co/3p0JPi2pLE

— Healthy News Daily (@eHealthyDaily) September 6, 2017
"It was so traumatic losing my baby, then my ovary and recovering from surgery," she said.

Kirsty and her partner Celern hope they can have a family and will try to have another child in the near future.
She has undergone fertility tests since the operation and has been told she should be able to conceive naturally.
"I'll just be extra cautious next time my stomach starts to swell," she said.
Our hearts go out to Kirsty, she has had an incredibly tough time.