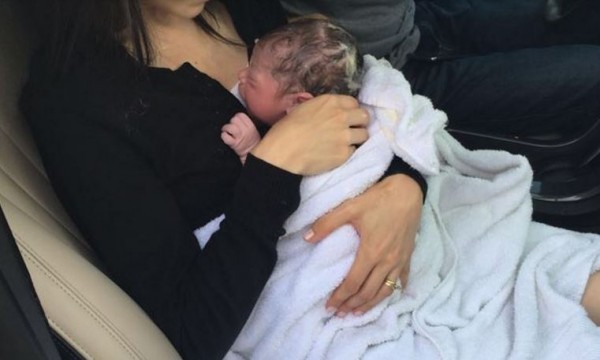 We all know that mad panic to get to hospital when labour starts.
Whether it's your first, second, third or fourth child, no one knows when he or she will arrive, and sometimes Baby doesn't want to hang around for a comfy hospital bed.
Something this mum-of-four knows all about.
The woman, who has not been named, gave birth to a little boy last week... in her car... while parked in her driveway, and her brother just had to post a picture of the incredible story on imgur.
Explaining how his sister described the birth as fairly quick, imgur user BeckEiche wrote: "So what I know so far she got to her car to go and ... pufff it came out (her words) hahahahah they are fine! [sic]".
User were quick to send their congratulations to the happy couple, with one highlighting at least one positive of giving birth in the car: "Saves on hospital bills, just go back in the house [sic]!
"It's not my first nephew, but it's a lifetime story to tell", the very proud uncle posted.
i guess that kid doesn't know what wait is * so what i know so far she got to her car to go and ... pufff it came out (her words) hahahahahthey are fine!!!!!and its not my first nephew , but its a life time story to tell hahahah* Front Page edit first time most edit coming WOW ... 2 year here finally happened my sister is fine she is debating with her husband the name now she is very tired and has been resting , she described has a *puff* but it was a birth so it had all of it .the pain blood etc.. this pic is the pg version she is not young she look young but is almost 30 (NOT THAT YOUNG like some are saying ) she is happily married for almost 10 years and that is her forth baby .now that i finally got here Send me golden retrievers gifs and pics love you all guys thanks for the support
SHARE to send congratulations to the happy family.