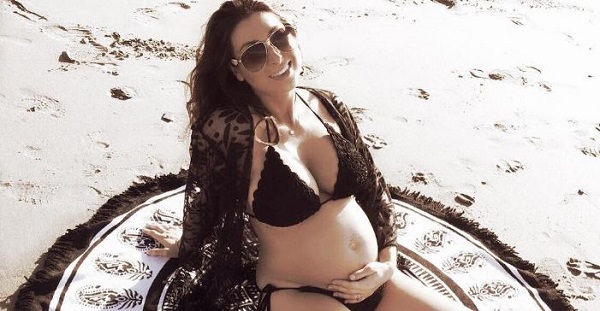 Carrying and giving birth to a child is the most beautiful miracle of life, and while we love our bodies for the incredible gift they produce at the end of nine months, pregnancy can really take its toll.
This is something that reality star Luisa Zissman has admitted to, in a candid Instagram post this week.
Luisa, who is expecting her second child, admitted that she while she cannot wait to meet her bundle of joy, she has found pregnancy to be 'life-limiting'.
The 29-year-old made the admission after sharing a stunning pre-pregnancy photo of herself in a swimsuit, admitting she didn't appreciate her body at the time.
"I thought I looked fat…Now I'm nine months pregnant, I would love to look like that! Not long until I can hold my bubba and get my body back, stop sleeping all the time – oh, and drink copious amounts of champagne," wrote Luisa.
It was in the comment section, where she was inundated with support from her fans and followers, that Luisa admitted to having a hard time with her pregnancy experience.
"I don't enjoy being pregnant at all!...I find it very life-limiting as my whole routine and lifestyle has had to change. I'm grateful that I'm able to have bubbas and be pregnant, of course – that goes without saying. But, personally, I can't wait to pop and get back to normal!" she admitted.
We're sure there are a lot of mums out there who can relate to Luisa's experience of pregnancy. Can you?
SHARE if you know exactly where Luisa is coming from in her candid post.