Falafel Power Ball Wraps with Sweet Chilli Mayo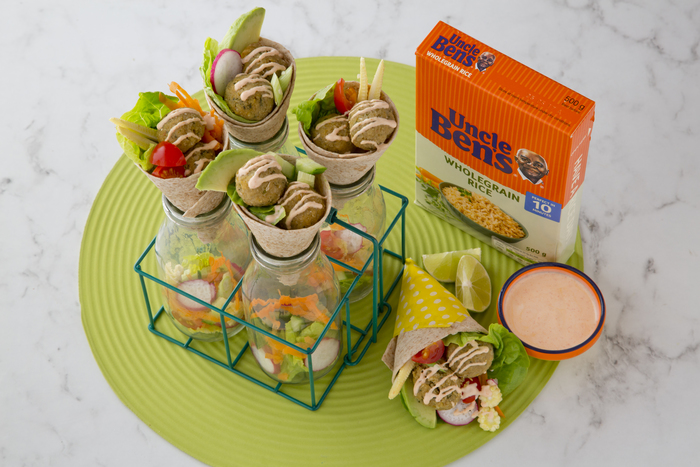 Tasty Falafel salad wraps, bursting with goodness.
1 tin good quality chickpeas - rinsed, drained and dried
50g Uncle Ben's uncooked wholegrain rice
1 tbsp garlic powder
1 tbsp onion powder
1 tbsp dried cumin
1 tsp dried coriander
Handful of fresh parsley or spinach
1 tsp lemon juice
4 tbsp olive oil + 2 tbsp oil for brushing
¼ tsp salt
6 small wholemeal wraps
Salad: Baby Gem lettuce, avocado, grated carrot, cucumber, radish and spring onion.
Dressing
2 tbsp greek yoghurt
3 tbsp mayonnaise
3 tbsp sweet chilli sauce
Get an adult to help with this. Fill a medium saucepan with hot water and bring to the boil. Carefully pour in the Uncle Ben's wholegrain rice and cook for 10mins.
Open the tin of chickpeas (get an adult to do this part). Empty the chickpeas into the colander and rinse under cold water. Shake off any excess water and dry with kitchen paper.
Drain the rice in a colander and rinse under cold water until completely cold.
Preheat the oven to 180oC / Gas 5.
Line an oven tray with parchment paper.
Using a food processor - pop in the chickpeas, wholegrain rice, olive oil, cumin, coriander, garlic granules, onion granules, salt and lemon juice. Always get an adult to help when using a food processor. Blitz for about 2 minutes until it forms a smooth paste. Turn off the food processor.
Carefully lift the blade out from the top, holding the plastic part. Using a spatula scoop out all the mixture into a bowl.
Dip your hands in a bowl with cold water. Using cold wet hands - roll the falafel mixture into about 20 mini balls, pop on the parchment paper.
Using a pastry brush, paint the power balls with a little oil to give them a golden colour and bake in the oven for 20 - 25 mins.
Using oven gloves lift the tray out the oven and allow to cool. 11. Next make the dressing. In a small bowl mix the yoghurt, mayonnaise and sweet chilli sauce together. 12.To assemble: cut the wraps in half, spread a spoon of sweet chilli dressing on the wrap, add salad & pop in 3 mini power ball falafels and wrap up.
Serves
a family of five
Preparation Time
20 minutes
Cooking Time
25 minutes
Main ingredients
Rice
Recipe Type
Kids Food, Salads
Level of Difficulty
Easy
These are a perfect solution to those lunch box dilemmas.
Making a salad is a great way to add colour. Remember to chop everything up nice and small as it makes it really bright and attractive.
The dressing is quick and easy but really helps to balance the flavour and introduce kids to spices.
Cook & Play with Ben's Beginners® is an easy and fun way to cook with kids, ensuring that they are learning age appropriate skills. Cook & Play is easy to use, visit
bensbeginners.ie
then choose the relevant age group for your child. Within each age group you will find a fun journey filled with age appropriate milestones, giving parents and their children a goal and reward. With Cook & Play there's a whole host of free resources online – visit
www.bensbeginners.ie
and get your family cooking.
Other recipes you may like
Trending and Sponsored