Apple & Berry Fritters with Lemon Balm Sugar and Raspberry Drizzle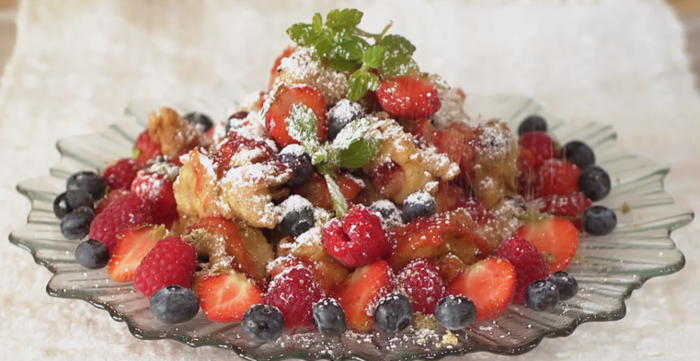 This is ideal for a special breakfast or brunch and whilst you might think of them as a treat, they are also packed with fruit! Cinnamon sugar is also a delicious alternative to the lemonbalm
For the lemonbalm sugar
10 lemon balm leaves, roughly chopped
4 tbsp caster sugar
For the raspberry drizzle
100g raspberries
2 tbsp icing sugar
½ lemon, zest only
4 tbsp water
For the fritters
100g assorted berries (blueberries, strawberries, blackberries are best - raspberries don't work
so well)
1 granny smith apple, finely diced
70g butter
150ml water
160g plain flour
½ tsp ground cinnamon
A pinch of nutmeg
3 eggs, beaten
To make the sugar:
Grind the lemon balm leaves and sugar together in a pestle and mortar, spoon into a small bowl and set aside.
For the drizzle:
Place the raspberries and icing sugar into a small blender and puree until smooth,
stir in the lemon zest and water. Pour into the small jug, ready to serve.
For the fritters:
Combine the butter and water together in a medium saucepan and bring to the boil.
Remove from the heat.
Add the cinnamon and nutmeg to the flour.
And add all these dry ingredients to the butter / water mix. Begin to whisk until the mixture
comes away from the sides of the saucepan. Cool for about 4 minutes before adding the beaten
eggs, a little at a time, whisking until a glossy mixture forms. If you feel the batter is too thick,
add a tablespoon or two of cold water and mix well.
Stir in the berries and diced apple.
To cook the fritters:
Heat about 1 litre of rapeseed oil in a medium sized saucepan. Test a small
amount of the mix to see if the oil is ready.
Then carefully drop about 4 to 6 tablespoonfuls of mixture in the hot oil.
Cook for 2 to 3 minutes or until golden, they will float to the top. Turn once to ensure that they
are golden all over.
To serve:
Use a slotted spoon to lift the fritters out of the saucepan and place onto kitchen paper to drain.
Transfer onto a pretty platter, add the berries to the base of the platter and arrange more fruit
over the fritters.
Spoon over the raspberry drizzle, sprinkle over some of the lemon balm sugar and dust with
icing sugar. Serve immediately.
Serves
4
Preparation Time
10 minutes
Cooking Time
5 minutes
Main ingredients
Flour, Fruit, Eggs
Recipe Type
Cakes & Baking, Dessert, Breakfast
Level of Difficulty
Easy
Tip: These are amazing with diced mango and lime zest.
For more recipe videos click
here
.
Other recipes you may like
Trending and Sponsored