Batten bites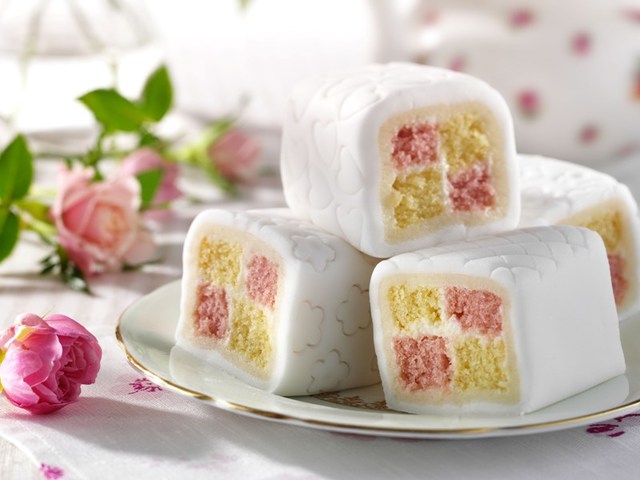 115g (4oz) baking margarine
115g (4oz) caster sugar
2 medium eggs, beaten
115g (4oz) plain flour
7.5ml (1 ½ tsp) Dr. Oetker Gluten Free Baking Powder
Dr. Oetker Bright Red Gel Food Colour
Dr. Oetker Cake Release Spray
To Decorate:
75g (3oz) unsalted butter, softened
125g (4 1/2oz) icing sugar + extra for dusting
A few drops Dr. Oetker Natural Almond Extract
454g Dr. Oetker Marzipan
454g (16oz) Dr. Oetker White Regal-Ice Ready to Roll Icing
Preheat the oven to 190°C (170°C fan assisted oven, 375°F, gas mark 5). Spray two, 18cm (7inch) square cake tins with Cake Release Spray to grease. In a mixing bowl, beat the margarine with the sugar until pale, and creamy in texture. Gradually whisk in the eggs then sift the flour and Baking Powder on top. Carefully mix the ingredients together.
Divide the mixture in half and add a few drops of Bright Red Gel Food Colour to one half and carefully mix in until well blended. Spoon into separate tins, smooth the tops and bake for 10-12 minutes until risen and firm to the touch. Turn on to a wire rack to cool.
Meanwhile, put the butter in a mixing bowl and beat until soft. Gradually sieve in the icing sugar, beating well after each addition, to make a smooth, spreadable icing. Mix in the Natural Almond Extract to taste. Set aside.
Trim the crusts from both cakes and sandwich together with a thin layer of the buttercream. Cut into 10 thin strips. Spread 5 strips thinly with buttercream and sandwich together with the remaining strips to create 5 chequerboard rectangular bars.
Divide the marzipan into 5 equal pieces. Lightly dust the work surface with icing sugar and roll each piece out thinly to make approx. 15cm (6inch) squares. Trim the edges to neaten, spread thinly with buttercream and lay a sponge bar in the centre of each, edge to edge with the marzipan. Fold the marzipan around, and press neatly to maintain the bar-like appearance.
Repeat using the Regal-Ice Ready to Roll Icing, brushing the marzipan lightly with water to help to secure the icing. Cut each bar into 4 equal pieces.
This recipe is brought to you by Dr. Oetker
Main ingredients
Flour, Sugar
Recipe Type
Cakes & Baking, Entertaining, Cupcakes
Special Info
Vegetarian, Pregnant Mums
Level of Difficulty
Tricky
Other recipes you may like
Trending and Sponsored