Beef wellington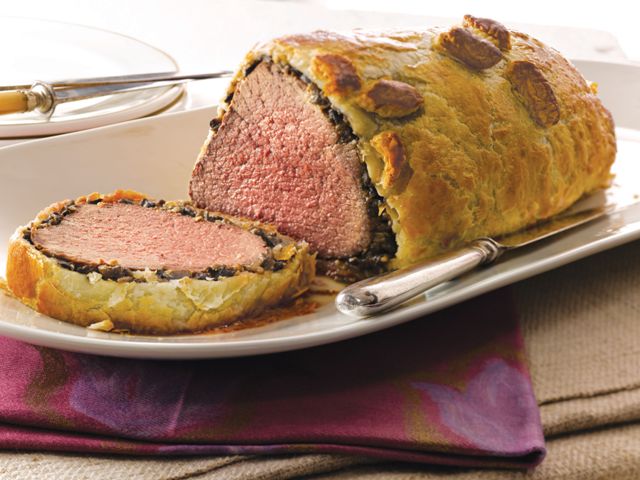 A very special way to serve fillet of beef and always a favourite!
1kg fillet of beef, well trimmed
1 tbsp. oil
75g butter
1 small onion, finely chopped
2 shallots, finely chopped
350g mushrooms, finely chopped
Salt and freshly-ground black pepper
A pinch nutmeg
500g store-bought puff pastry, defrosted if frozen
1 egg, beaten
Heat the oil and 50g of the butter in a small pan, add the onion and shallots and cook until transparent. Add the mushrooms, seasoning and nutmeg. Stir over a moderate heat until all moisture from the mushrooms has evaporated. Transfer to a plate to cool.
Heat the remaining butter in a frying pan. Season the beef then brown it on all sides. This should take about five minutes. Allow to cool while you roll the pastry into an oblong shape large enough to wrap around the beef. Spread with the cold mushroom mixture, leaving a 2cm border all around. Moisten the edges with beaten egg. Place cooled meat in the centre and wrap the pastry around it. Seal the edges and place on a baking tray, with the seal underneath. Use the pasty trimmings to make leaves for decoration, brush with a little egg and place on top of the parcel. Brush the parcel with rest of the beaten egg.
Chill in the fridge for 20 minutes to allow the pastry to rest before baking. Then place in a preheated oven, 230°C /440°F/Gas Mark 8. After 10 minutes turn the temperature down to 200°C/400°F/Gas Mark 6 for a further 25 minutes. The beef will be medium rare at this stage. Cook for five minutes less is you like it rare.
Serve with roast potatoes and vegetables which you can cook in the oven at the same time as the beef.
Serves
6
Cooking Time
80 minutes
Main ingredients
Beef
Recipe Type
Dinner, Entertaining, Family Dinners
Cuisine
English
Other recipes you may like
Trending and Sponsored