Biscotti with Babyccino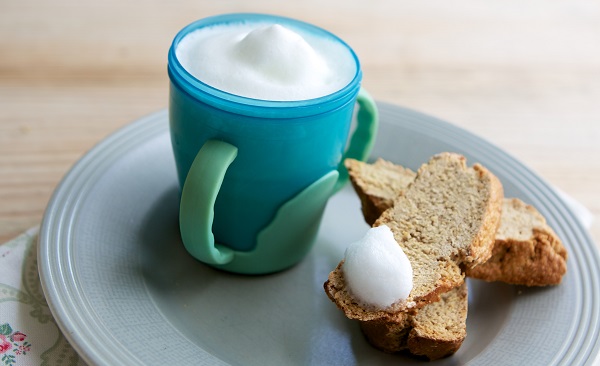 A great finger food, and
perfect for a teething baby!
1 cup of plain flour
3/4 cup of wholemeal flour
2 tsp baking powder
1/2 tsp ground cinnamon
2 eggs whisked
1 egg yolk
1 tbsp milk
(If making for adults, you can add in 3/4 cup of sugar to sweeten it up!)
Serve with some warm frothy milk as a Babyccino!
Preheat your oven to 180 degrees.
Line your baking tray with some greaseproof paper.
Mix together all of the dry ingredients.
Slowly add the two whisked eggs, and mix together until a dough starts to form.
Split the dough into two pieces, and shape into two logs on your baking tray.
Mix the egg yolk and the milk together and, using a pastry brush, glaze the logs.
Bake in the oven for 20-25 minutes until golden brown.
Remove from the oven and allow to cool for 5-6 minutes before slicing into biscotti.
Place back on the baking tray, lower your oven 160 degrees, and bake for a further 15-20 minutes until dried and golden brown.
Remove from the oven and place on a wire rack to cool.
Main ingredients
Dairy, Flour, Eggs, Spice
Recipe Type
Kids Food, Snacks
Storage
4mth+: Finger food is not suitable before 6 months.
6mths+: as a Finger Food.
Store in your air tight
8oz Mummy Cooks Portion Pots
for up to one week, or freeze the day they are made and store for up to one month. Defrost thoroughly and heat through before serving.
Other recipes you may like
Trending and Sponsored