Chicken liver parfait with pickled beetroot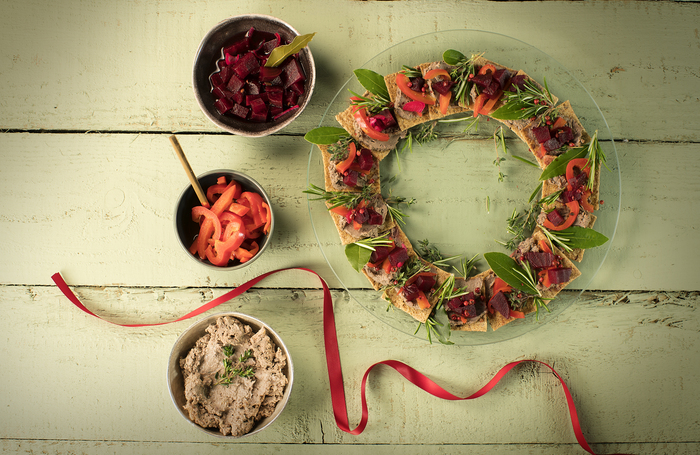 Perfect for an evening soiree, these creative and tasty nibbles will impress your guests.
For the beetroot pickle
4 shallots, sliced
60g Siucra Caster Sugar
½ tsp black peppercorns
½ tsp salt
2 bay leaves
1 tsp fennel seeds
50ml white wine vinegar
1 tbsp balsamic vinegar
4 tbsp water
2 beetroots, steamed, peeled and finely diced
For the red pepper pickle
2 red peppers, deseeded and sliced
1 red chilli, seeds removed and sliced
60g Siucra Granulated Sugar
½ tsp cumin seeds
1 tsp pink peppercorns
100ml white wine vinegar
50ml water
For the liver parfait
100g butter
5 shallots, finely chopped
300g chicken livers, trimmed
2 tsp Siucra Rich Brown Sugar
½ tsp chopped thyme
3 tbsp port
Salt and freshly ground black pepper
2 tbsp melted butter
A few small sprigs of thyme
To prepare the beetroot pickle.
Place the shallots, sugar, peppercorns, salt, bay leaves, fennel seeds and white wine vinegar and balsamic vinegar into a saucepan together with the water. Bring to the boil and reduce to a simmer. Cook for about 5 minutes before adding the diced beetroot. Remove from the heat and spoon into a sterilised jar and seal.
To prepare the red pepper pickle
Place the red peppers, chilli, sugar, cumin seeds and pink peppercorns in a saucepan. Pour over the white wine vinegar and water and bring to the boil then reduce the heat to a simmer and cook for about 10 minutes. Spoon into a sterilised jar and seal well.
For the parfait
In a large frying pan, melt the butter over a medium heat and add the shallots. Sauté for 5 minutes until softened but not brown. Add the chicken livers, thyme, port and cook for 4 to 5 minutes until the livers are just cooked through. Remove from the heat. Using a slotted spoon, transfer the cooked livers to a food processor and pour in a little liquid, blend until smooth. Spoon the parfait into small pots or ramekins. Allow to cool and place into the fridge to set. Once set, place a sprig or two of thyme on the top of each pot. Spoon over a little melted butter and return the parfait to the fridge.
When ready to serve
Take the parfait out 10 minutes before serving. Spoon the pickles into pretty bowls and serve with flat bread or crisp biscuits.
Serves
6-8
Main ingredients
Chicken, Vegetables, Spice
Recipe Type
Dips
Cuisine
Irish
Level of Difficulty
Easy
Surprise your guests with these delightful recipe by Siúcra & Catherine Fulvio.
Other recipes you may like
Trending and Sponsored