Choco-mallow tea cakes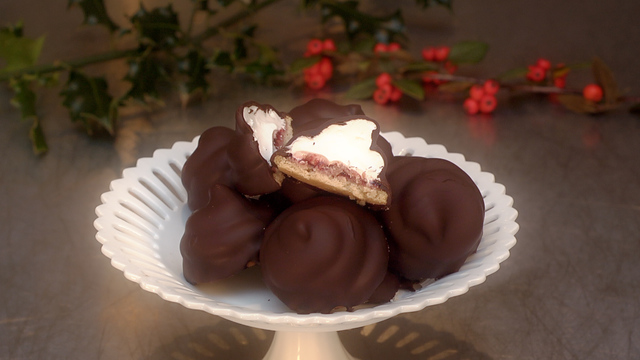 These are so retro! With a crumbly biscuit base, crisp chocolate coating and a soft mallowy centre with a jammy surprise, you won't be able to resist eating more than one!
28 × 5cm round plain (or chocolate) biscuits
50g raspberry jam
100g caster sugar
1 egg white
¼ tsp cream of tartar
½ tsp vanilla extract
250g plain chocolate (at least 70% cocoa solids)
Lay the biscuits out on a wire rack and spread a small teaspoon of the jam in the centre of each one.
Place the sugar, egg white, cream of tartar, vanilla extract and 25ml of water into a medium heatproof bowl and beat with an electric handheld whisk for a minute until the mixture turns opaque.
Sit the bowl on top of a pan of simmering water, shallow enough that the water doesn't touch the bowl.
Using the electric whisk, beat the mixture for 5-6 minutes until it doubles in volume, becomes thick and glossy and can form stiff peaks.
Remove from the heat, spoon into the piping bag and pipe a 4cm-high peaked dome on top of the jam on each biscuit, to come nearly to the edge.
Pop the tray into the fridge for 30 minutes so the mallow firms up a little.
Meanwhile, snap the chocolate into a medium heatproof bowl and either melt in the microwave in 20-second blasts, stirring between each go, or over a pan of simmering water, shallow enough that the water doesn't touch the bowl.
When melted, remove from the heat and leave to cool to body temperature.
When everything is ready, hold a tea cake over the bowl of melted chocolate and spoon generously with chocolate to coat all over.
Return to the rack and repeat for all.
Chill in the fridge for 30 minutes until set firm.
These will keep for a couple of days in the fridge. Nibble on them at your pleasure!
Serves
Makes 14
Preparation Time
30 minutes
Main ingredients
Chocolate, Fruit, Eggs, Sugar, Biscuits
Recipe Type
Cookies & Biscuits
Level of Difficulty
Moderately Easy
As the mallow here is not fully cooked these are not suitable for pregnant women, very young children or anyone frail.
Essential kit:
Electric handheld whisk
Piping bag with a 1.5cm plain nozzle or a disposable piping bag snipped to this size
You can omit the jam if you prefer or spread a little salted caramel sauce or dulce de leche caramel on the biscuit instead.
Other recipes you may like
Trending and Sponsored