Chocolate cola celebration cake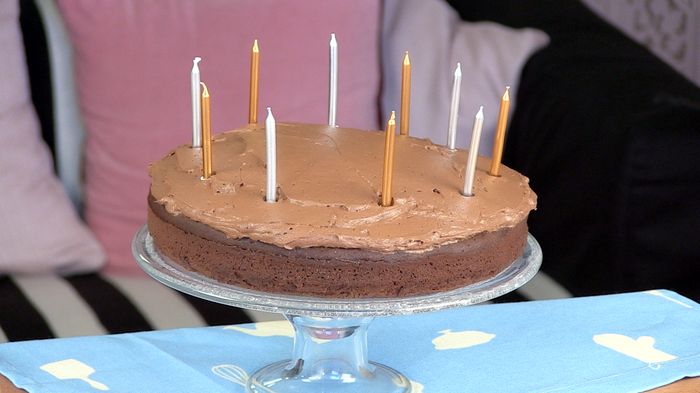 Delicious moist chocolate cake with a creamy chocolate buttercream.
250g gluten-free self-raising flour
45g cocoa powder
1 tsp bicarbonate soda
150g caster sugar
150g butter
200ml cola
150m milk
2 eggs
1 tsp vanilla extract
Chocolate buttercream icing
110g butter
170g icing sugar
55g cocoa powder
2 tbsp milk
Preheat oven to 180
°/350
°F/Gas 4.
Grease and line a 23cm cake tin.
Sift flour, cocoa powder and bicarbonate soda into a mixing bowl. Stir in the caster sugar.
Melt the butter and cola together in a saucepan.
Whisk together the milk, eggs and vanilla extract.
Add the egg mix and melted cola mix to the dry ingredients and mix together well.
Pour the batter into the the prepared cake tin.
Transfer to the oven and bake
for 40 minutes.
Remove from the oven and leave to cool.
Meanwhile to prepare the icing, whisk together the butter, icing sugar, cocoa powder and milk.
Once cake has cooled spread the icing over the top and serve.
Serves
10
Preparation Time
15 minutes
Cooking Time
40 minutes
Main ingredients
Flour, Chocolate, Eggs
Recipe Type
Cakes & Baking, Dessert, Easy, Cake Stall, Vegetarian
Cuisine
Cafe
Special Info
Nut free, Vegetarian
Level of Difficulty
Easy
Other recipes you may like
Trending and Sponsored
Hello Mama!
Help us help you by allowing us and our
partners
to remember your device in cookies to serve you personalized content and ads.
We're on a mission to help our mums and their families thrive by informing, connecting and entertaining.
Join us in our mission by consenting to the use of cookies and IP address recognition by us and our partners to serve you content (including ads) best suited to your interests, both here and around the web.
We promise never to share any other information that may be deemed personal unless you explicitly tell us it's ok.
If you want more info, see our privacy policy.