Chocolate profiteroles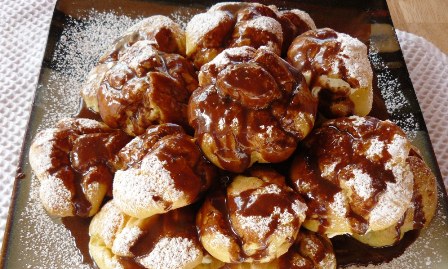 A popular dessert perfect for serving at dinner parties and that both adults and children love.
Choux Pastry Ingredients:
100g strong white flour
150ml water
65g butter
Pinch of salt
3 beaten eggs
100g strong white or plain flour

For the filling:
400ml whipped cream (measure when whipped)
2 tbsp icing sugar
2 tsp vanilla extract

For the hot chocolate sauce:
200ml cream
200g chocolate (chopped)
1-2 tbsp Cointreau, Grand Marnier, brandy, rum or 1 tsp finely grated orange rind (optional)
Preheat the oven to 200°C/400°F/Gas 6 and line a baking tray with parchment paper (this is different to greaseproof paper which the profiteroles may stick to if used). If you don't have parchment paper, very lightly grease the baking tray.
First sift the flour and salt and set aside.
Put the water and butter into a high sided saucepan over a low heat until butter melts.
Bring to the boil and immediately remove from the heat, quickly adding the sieved flour and salt. Beat well with a wooden spoon. Place back on the heat and stir briskly until mixture forms a soft dough and leaves sides of saucepan. Remove from heat and allow to cool.
Add the eggs gradually (in four parts works best) and beat until mixture is smooth and shiny each time.
Drop dough by tablespoons 7cm apart the baking tray. If you are feeling very cheffy, you could pipe the profiteroles. If you are doing this you will need a plain nozzle around 7-8mm wide at the tip. Pipe the dough into rounds, about the size of a walnut in its shell (keeping in mind these will double in size in the oven), spaced about 7cm apart on the tray to allow for expansion, using a small wet knife to tap down the dough after you have finished piping each profiterole.
Bake 15-20 minutes or until puffed, crisp and golden.
Take them out of the oven and using a skewer or the tip of a small sharp knife, make a hole in the side or the bottom of each profiterole, then cook for another 5 minutes. This will allow the steam to escape. Remove from oven and cool fully on wire tray.
For the filling:
Fold the sifted icing sugar and the vanilla extract into the whipped cream.
Make the hot chocolate sauce:
Place the cream in a saucepan and bring up to the boil. Add the chopped chocolate and stir until the chocolate melts.
To assemble:
Fill the profiteroles with whipped cream when completely cool. This is best done using a piping bag with 3mm wide plain nozzle. You can easily use a teaspoon – it's just a little trickier. Place them in the fridge until you are ready to serve them with hot chocolate sauce.
When you are ready to serve, take them out of the fridge and pile them high on a large plate or cake stand, or onto individual plates.
Dust very generously with icing sugar, then pour over the hot chocolate sauce and serve immediately.
Preparation Time
30 minutes
Cooking Time
15 minutes
Main ingredients
Flour, Chocolate, Eggs
Recipe Type
Cakes & Baking, Dessert, Entertaining
Level of Difficulty
Medium
Other recipes you may like
Trending and Sponsored