Chocolate simnel cake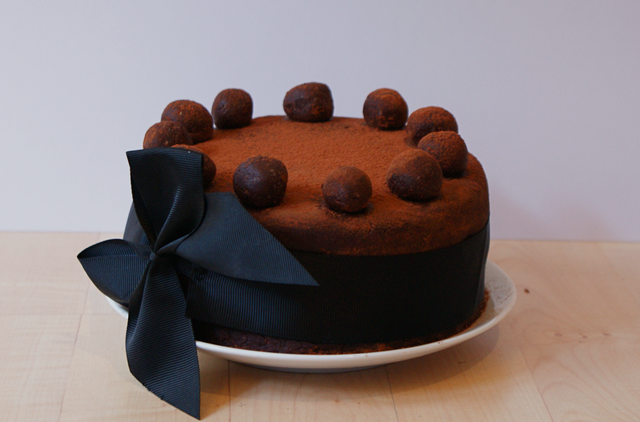 Marzipan and chocolate make a wonderful combination in this sinfully good chocolate simnel cake.
110g butter, plus extra for greasing
110g caster sugar
2 eggs
110g self-raising flour
pinches of salt
50g cocoa powder
50g ground almonds
2 tbsp maple syrup
175g golden marzipan, rolled to a 20cm round
175g white marzipan, rolled to a 20cm round
For the icing
250g chocolate
200 ml crème fraîche
icing sugar
To decorate
12 chocolate truffles
handfuls of glazed almonds
Heat the oven to 180°C. Take a small amount of butter and grease a 20cm round cake tin.
Cream the butter and sugar with a wooden spoon until the mixture becomes pale and airy.
Stir in the eggs while mixing continuously. Add the flour, salt, cocoa powder first and then the ground almonds and maple syrup.
Tip half of the mixture in the cake tin. Layer the golden marzipan and the white marzipan on top. Pour the remaining dough and even out the top.
Put in the oven for about 45 minutes. The cake should be firm on top and not stick to the sides of the tin anymore.
Let the cake cool in its tin then turn it out of the tin onto a wire cooling rack.
Making the icing: Heat a saucepan filled with water until it almost boils. Roughly break the chocolate into a bowl and place it over the saucepan. Be careful, the bottom of the bowl should not touch the saucepan. Leave the chocolate to melt. Once completely melted, pour the crème fraîche and gently stir until thoroughly blended. Sugar to taste.
When cool, invert a serving plate over the cake then flip over. Cover the entire cake with the chocolate icing topped with the truffles and glazed almonds. Slice and serve.
Serves
6-10
Preparation Time
45 minutes
Cooking Time
45 minutes
Main ingredients
Flour, Chocolate, Sugar
Recipe Type
Cakes & Baking, Dessert, Entertaining
Level of Difficulty
Easy
The stunning cake image above of a chocolate simnel cake is made by Emma Gardner. Check out her recipe for a chocolate simnel cake on her fabulous blog
Poires au Chocolat
Other recipes you may like
Trending and Sponsored